Norway Wealth Fund Dumps Saudi Stocks During Review of Benchmark
Norway's $1.1 trillion sovereign wealth fund reduced holdings of Saudi Arabian equities by about 60% last year as it reviews an internal benchmark that guides its global stock purchases.
The fund's total investment in shares traded in Riyadh fell to $420 million by the end of 2019, from about $1 billion the year before, according to data from Norges Bank Investment Management, which manages the fund. In contrast, holdings increased in other markets in the region including the United Arab Emirates, Egypt, Qatar, Kuwait, Turkey and Israel.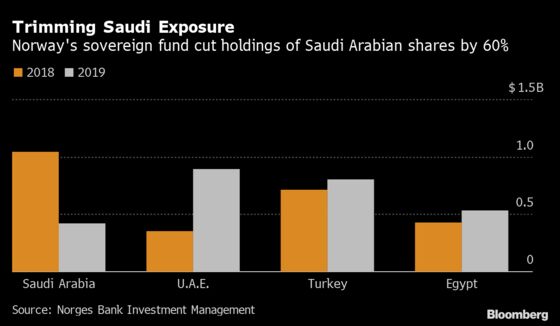 The Norwegian fund sold more than two-thirds of its Saudi equities last year, although the value of its holdings fell by less than that because of positive market returns, Chief Executive Officer Yngve Slyngstad said as he presented the fund's annual report last week.
Slyngstad said the divestments didn't reflect any view taken by the fund on the outlook for the market, but rather stemmed from the review of its internal benchmark.
The sovereign fund had earlier increased its Saudi holdings in anticipation of the kingdom's addition to the internal gauge, which is based on the FTSE Global All Cap Index. That inclusion was, however, put on hold in 2018 while the Norwegian government reviews the composition of the benchmark.
The Finance Ministry is expected to present its conclusions on the index composition in the coming weeks. The fund now expects that Saudi Arabia won't be part of the index after that review, a spokeswoman said by email.
The review also explains why the Norwegian fund didn't participate in Saudi Aramco's initial public offering last year. It held no shares in the oil producer at the end of 2019.
Saudi Arabia was the fund's biggest market for equity investments in the Middle East after Israel at the end of 2018, but dropped to sixth position last year.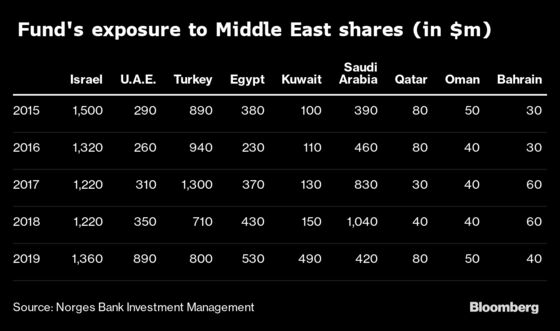 The Government Pension Fund Global, as it is formally known, invests Norway's revenue from oil and gas in stocks, bonds and real estate abroad in order to avoid overheating the domestic economy and to save as much wealth as possible for future generations. It owned about 1.5% of the world's listed equities at the end of 2019.