Nordstrom Slides as Weak Margins Add to Wall Street Concerns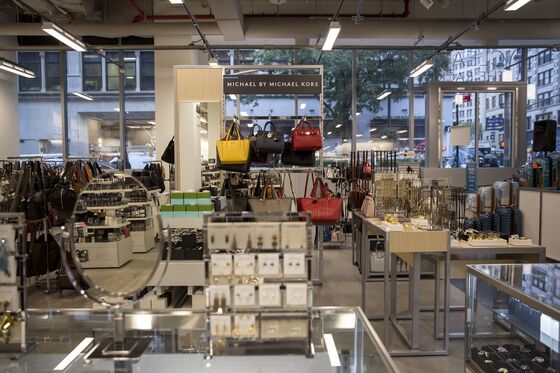 (Bloomberg) -- Nordstrom Inc. shares plunged as much as 16 percent in early trading, their biggest intraday decline in more than two years, following a less-than-stellar quarterly report. The biggest concerns for analysts centered on weaker-than-expected gross margin and full-price comparable store sales, as well as a credit card issue that resulted in a one-time charge.
The disappointment followed letdowns by department-store peers Macy's Inc. and Dillard's Inc. earlier this week. Deutsche Bank said even amid cautious expectations, "this week proved to be much tougher than feared" for the sector. Kohl's Corp. is the next to report earnings on Nov. 20.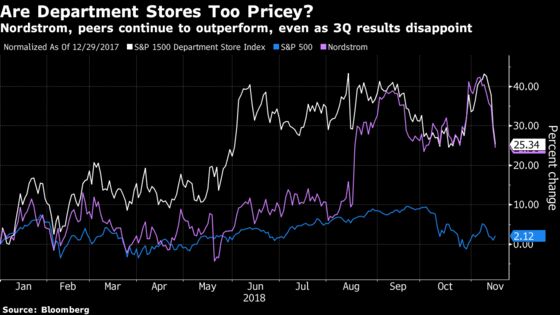 Here's what Wall Street analysts are saying:
Goldman Sachs, Alexandra Walvis
"While a 3Q shortfall in full price comps and gross margins was disappointing, we believe a significant portion of the miss was driven by" issues including calendar/timing shifts as well as outperformance in the U.S. off-price business, which is a headwind to gross margins.
"Conversations ahead of the print suggested investors had positioned for a strong result."
"While we expect shares to underperform on Friday on the back of a disappointing 3Q print, we believe underlying momentum in the business is strong," and would use weakness as "an opportunistic entry point for a business with a strong competitive position, an upcoming inflection in margins and returns, and an underappreciated off-price business."
Goldman has a buy rating on Nordstrom and stock is also on its Americas Conviction List. Its price target was trimmed to $73 from $74.
Telsey Advisory Group, Dana Telsey
"Nordstrom's initiatives are beginning to bear fruit and have positioned it as a leader in the industry."
"If there was anything to pick at in the quarter, it would be an unexpected charge of $72 million ($0.28 in EPS) related to its credit card accounts." But the charge is "a one-time item and the company has taken appropriate actions to address the issue."
"In addition, the full-price comp. of 0.4% appears optically low, but was impacted by planned anniversary returns from 2Q."
"Overall, we believe 3Q was a respectable quarter and looking ahead, management continues to expect Nordstrom to achieve an inflection point for profitable growth in 2018."
Telsey maintains outperform rating and $72 price target.
Nomura Instinet, Simeon Siegel
"After several quarters of expressing our fear that inventory levels across the dept. store channel were not as healthy as they seemed amid a growing diversion of excess product to off-price channels, 3Q reports are making the inventory situation harder to ignore."
"Although managements are citing timing differences, the last several quarters have shown a trajectory of building inventory, which continues to leave us wary of go-forward pricing power."
"Recognizing this backdrop and with some remaining questions, at current levels, with much accounting and environmental noise, we remain sidelined on JWN as we await greater clarity on underlying trends."
Nomura Instinet has a neutral rating and trimmed its price target to $55 from $57.
"Negative comp. impact from a shift and a gross margin miss will likely weigh on the stock," which at a 15.5 price-to-earnings multiple, already had the highest PE in the department store sector.
"Event shifts, 53rd week changes, and revenue recognition impacts were previously disclosed; however, expectations may not have fully incorporated these differences, which generally benefited 1H at the expense of 2H."
"We are pleased by another solid quarter at Rack and steps to more closely align its local assets," but "near-term valuation could be fair and we wait for greater visibility on both product margin and comparable store sales consistency."
"Also, unfortunately it's not good news that JWN had to take a one-time charge following a process error which caused some card holders to be charged higher interest."
Cowen has a market perform rating and $56 price target.
KeyBanc Capital Markets, Edward Yruma
"Excluding a credit card issue, JWN 3Q earnings were fine," but comparable sales probably won't accelerate from their current levels.
"Nordstrom's generational investments, including Local, Canada, New York, and digital,
should continue to drive growth, but EBIT levels are unlikely to return to previous peak
levels given a different business mix (Rack/e-commerce)."
KeyBanc keeps its sector weight rating as "absolute upside opportunity seems somewhat limited given still tepid earnings growth."
RBC Capital Markets, Brian Tunick
"Print is viewed as disappointing given heightened expectations following very strong 2Q results that had given investors hope that comps could be maintained in mid-single digit percent and margin recovery timeline could be pulled forward."
"Although 3Q results were solid with strong off-price comps, we believe it is not enough to maintain the significant multiple premium to peers."
RBC has a sector perform rating and trimmed its price target to $60 from $62.