Nordea Wins Praise From Activist Investor Cevian; Shares Soar
(Bloomberg) -- Nordea Bank Abp exceeded market expectations for the fourth quarter, drivings it share price higher and drawing praise from one of its most vocal shareholders.
The bank's performance last year marks "another strong report," Cevian Capital Managing Partner Christer Gardell said in an emailed comment to Bloomberg News on Thursday, after Nordea released its results.
"We expect a rapid and significant improvement in earnings also in 2021, and we are convinced that the bank's management will deliver just that," he said.
Shares in Nordea were up about 5% when the market opened in Stockholm, where most of its stock is traded.
Frank Vang-Jensen, chief executive of the biggest Nordic bank, unveiled fourth-quarter profit was almost 5% higher than expected by analysts, while net loan losses were considerably lower, at just 28 million euros (analysts had expected more than 100 million euros, or $120 million).
Vang-Jensen said Nordea is benefiting greatly from Nordic economic resilience in the face of the pandemic, as consumers and businesses in the region fare better than their peers elsewhere in Europe.
In an interview with Bloomberg Television, Vang-Jensen said Helsinki-based Nordea now has plenty of extra cash to start paying dividends, once the European Central Bank lets it.
"It's a good report," said Antti Saari, an analyst at OP Group in Helsinki.
Read More: Nordea Bank 4Q Net Interest Income Meets Estimates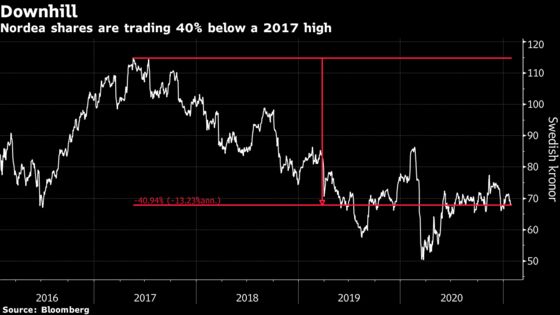 Nordea has spent years cutting jobs and streamlining its organization amid pressure from shareholders to become more profitable. Since taking over as chief executive in late 2019, Frank Vang-Jensen has accelerated the pace of change, amid concerns investors might run out of patience.
Gardell at Cevian said Nordea still has "a lot of hard work" ahead of it if it's to realize its "full value potential."
On Thursday, Nordea guided for further cost reductions, estimating total costs below 4.6 billion euros in 2021. Its common equity Tier 1 ratio -- a measure of capital strength -- rose to 17.1%, which is better than expected by analysts.
Nordea proposed a dividend of 0.39 euros per share for 2020, and "will decide in February to distribute 0.07 euros per share as the first installment of the delayed 2019 dividend of 0.40 euros per share."
It also proposed paying the remaining part of the 2019 dividend, which is 0.33 euros per share, as well as the 2020 dividend, for a total of 0.72 euros per share. Nordea said those payments would be made after September, in keeping with the European Central Bank's recommendation.
"Nordea is obstinately holding onto the ambition to pay the dividend in full, in contrast to its Swedish peers who have unwound some of the funds set aside for the dividends they haven't been able to pay," Saari said.
"Given Nordea is proposing such dividend payments, it appears this is acceptable to the ECB," he said. "The potential payment could provide some boost to the relatively cheap Nordea share."
Fourth-quarter net income was 725 million euros, exceeding the average analyst estimate of 693 million euros, according to the report published on Thursday. Nordea's net interest income reached 1.17 billion euros, just beating the 1.16 billion-euro estimate in a Bloomberg survey of analysts.
Read More...
Swedbank Sinks as Outlook Has Investors Worried About Revenue
Top Swedish Bank Executive Warns of Risks With Big Dividends