Biggest Nordic Bank Won't Make It Into Euro Stoxx 50 Index
(Bloomberg) -- The biggest Nordic bank is starting to feel a lot smaller.
Nordea Bank Abp joined the euro zone in October by moving its headquarters to Helsinki from Stockholm. A month later, it learned it was losing its status as a global systemically important bank. Now, it appears Nordea is also too small to make it into the Euro Stoxx 50 Index, which supports some of the world's most liquid derivatives.
Potential membership of the euro-zone benchmark had been seen as an important driver for Nordea's stock by analysts and media in its home market. But for Stoxx Ltd., the owner of the index, Nordea remains Swedish despite its new headquarters. That's because most of the trading in its stock is still done in Stockholm. Even if that were to change, Nordea would be held back by its falling share price.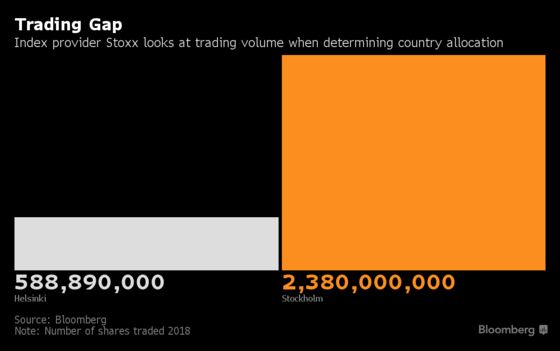 The combined value of Nordea shares is about 30 billion euros ($34 billion). While that's a bigger market capitalization than for some current members of the Euro Stoxx 50, the entry math is a bit tricky. When considering which companies to add to the index, its owner looks at the proportion of stocks available for active trading and not held by long-term investors.
Nordea's so-called free-float market value is currently 23.6 billion euros, ranking it 45th on a selection list from which index entrants are picked, according to Frank Klumpp, index analyst at Landesbank Baden-Wuerttenberg. That's below the threshold of 40th required to join the index in its annual review in September (the cut-off date for the review is the final trading day of August). To qualify, Nordea's free-float market capitalization needs to grow by 13 percent, or 3 billion euros.
To enter through a fast-track process before that, Nordea would need to rank 25th or above.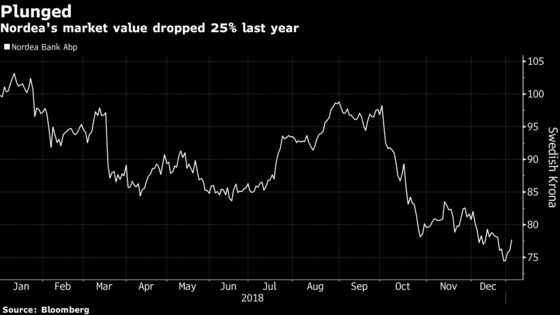 To be sure, being added to the index is not something Nordea has ever said it targets. The bank opted to move its base to Finland in order to be in a country that's part of the European banking union, arguing that the decision makes it subject to a more predictable regulatory environment than in Sweden.
"The purpose was not to be part of any index, that is not relevant," Nordea spokesman Petter Brunnberg said.