Nordea Sinks as Investors Fear More Money Laundering Allegations
(Bloomberg) -- Nordea Bank Abp sank as much as 6.5 percent on Monday ahead of report due to be broadcast this afternoon that will focus on the biggest Nordic lender's alleged involvement in money laundering.
The news appeared to drag down a number of other Nordic bank shares with DNB ASA, Norway's largest lender, falling as much as 4.6 percent. SEB AB fell as much as 2.1 percent.
Read More: Blackstone Deal Gives Nordea, DNB a Path Out of the Baltics
The development shows how much investors have started to fear more revelations that the Baltic units of banks in Sweden, Finland, Denmark and Norway may have served as a hub for Russian criminals eager to channel their funds into the West. Danske Bank A/S is currently under investigation by the U.S. Justice Department and the Securities and Exchange Commission after admitting that it was at the center of a $230 billion Estonian dirty money scandal.
Swedbank AB, Sweden's oldest lender and the dominant financial presence in the Baltics, has lost about a fifth of its market value since the main Swedish broadcaster, SVT, published a report on Feb. 20 linking it to the Danske case. The bank, which had previously denied any wrongdoing, is now being investigated by the financial supervisory authorities of Sweden and Estonia.
"Investors are essentially left in the dark with regard to Nordic banks, waiting to see what and when new allegations will emerge on money laundering," said Philip Richards, an analyst at Bloomberg Intelligence in London.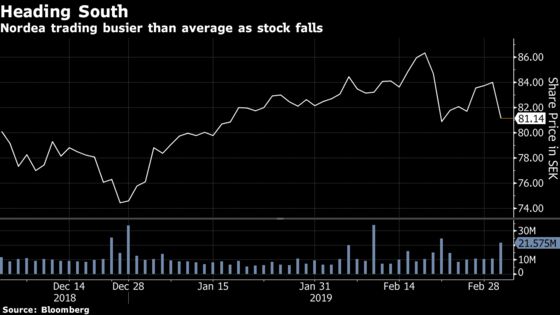 "The issue has now moved on from Danske Bank to engulf Swedbank and Nordea, but the entire sub-sector appears to be getting drawn in," Richards said. "Until banks come clean and reveal the full extent of what suspicious transactions they have been involved in, this looks set to run and run."
Nordea said it "is aware of the media story and has been in dialogue" with the Finnish broadcaster YLE and the Danish newspaper Berlingske, which are intending to publish the laundering report later on Monday.
"We have not yet seen the program or article. Based on what we have been invited to comment on, these are all issues that we have seen and commented on before and are therefore in line with previous statements made on AML issues," Nordea spokeswoman Kati Tommiska said in an emailed statement.
The bank, which moved its headquarters to Finland from Sweden for regulatory reasons last year, has already been fined in the past by Swedish authorities for failing to live up to anti-money laundering rules. The bank has repeatedly said it is cooperating with the relevant authorities.
Most recently, investor Bill Browder brought a complaint against Nordea alleging the bank is tied to the Danske scandal. Finland's prosecutor is looking into the case, and has yet to announce any decision on whether it thinks an investigation is warranted.
Finnish broadcaster YLE will show its viewers a program about Nordea and money laundering on Monday afternoon, according to its website.
The program is said to be about a big information leak showing that hundreds of millions of euros from suspicious sources have moved through Nordea: YLE
OCCRP is also planning to publish information on Monday
Nordea's CEO Casper von Koskull will take part in another YLE program covering money laundering at 9pm Finnish time
DNB spokesman Even Westerveld says the Norwegian bank hasn't been contacted by YLE
NOTE: YLE's MOT program has previously aired documentaries on Nordea involving so-called Paradise Papers and Panama Papers, though it's unclear what the content of today's program is
Feb. 19: Nordea Laundering Review Handed to Police as FSA Completes Work
Feb 22: Nordea Laundering Allegations Are Now Being Reviewed in Finland
Feb. 22: Nordea Is Cooperating With Investigators Amid Fresh Allegations
Feb. 25: Browder to Take Nordea Laundering Claims to U.S. If Needed