Nonprofit Cancer Funding Shows Signs of Inequality
(Bloomberg) -- Many things in life are a popularity contest, even charitable giving. The revenue that nonprofit cancer-fighting organizations receive is not proportionate with the burden those individual cancers place on society, according to a new study. 
Breast cancer, leukemia, lymphoma and pediatric cancer nonprofits were well-funded, considering the number of patients suffering from the cancer, the mortality rate of the cancer and the average number of years cut off a patient's life, according to a new study by Northwestern University. Brain, lung, gastrointestinal and gynecologic cancers were poorly funded in all three metrics.
"There are a lot of diseases that really don't get the support that they need," said Dr. Suneel Kamath, the study's lead author. "This will have a major negative impact on patients." The lack of funding impairs research and drug development, he said. 
While the researchers found that $6 billion flowed into cancer groups during the period studied, the study focused on the $1.4 billion that was sent to groups linked with specific types of cancer, such as Susan G. Komen, which focuses on breast cancer. That left out the likes of the American Cancer Society and the Patient Access Network Foundation, because they don't break out how much they spend on specific types of cancer. 
Social stigmas play a large role in the funding discrepancies, the study found. Breast cancer, for instance, has widespread public support and high-profile fundraising efforts. The disease, which killed 41,070 Americans in 2017, received more than $460 million in specific nonprofit revenue, according to tax records from 2015. Lung cancer, which is often associated with smoking, was responsible for almost four times as many U.S. deaths, but received just 20% in revenue during the same time periods.
"Any time lung cancer comes up, smoking is always the first thing people think about, and it's kind of an implicit blame in a way," Kamath said. 
It sometimes takes money for a nonprofit to make money. The study found that increased spending on fundraising, administrative costs and patient education was highly correlated with increased revenue. Public awareness, advertising and political influences were also found to skew certain cancers over others. 
"Breast cancer has a substantial group of people who are committed to it because of personal experience in their own lives," said Len Lichtenfeld, MD, Interim Chief Medical Scientific Officer for the American Cancer Society. "Some of the cancers are much more rare and just don't have as large a cadre of people who are involved."
Individual donors tend to be unaware as to which medical causes are well-supported and which aren't, but if made aware of discrepancies the public can attempt to compensate for the differences, Kamath found. "If people are unaware of something, it's like the problem doesn't even exist," he said.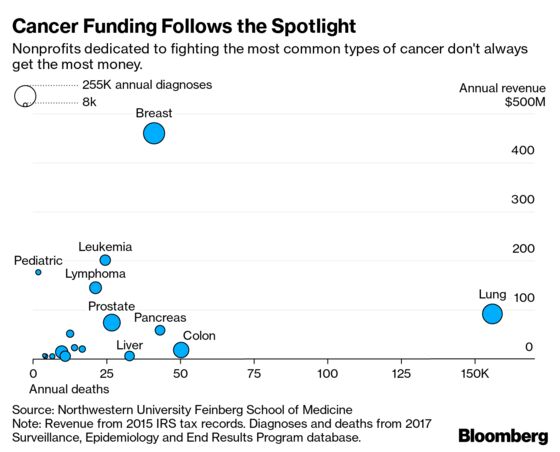 Sacroma, endometrial cancer, cervical cancer, myelodysplastic syndrome and liver and bile cancers brought in the least revenue, all receiving under $6 million.
The study used IRS tax records to identify nonprofits that support any type of cancer research and had at least $5 million in revenue in 2015. Researchers found 119 organizations that had amassed a total of $6 billion, of which $4.6 billion went to general cancer charities. The burden on society by cancer type was calculated using data from the Surveillance, Epidemiology and End Results Program Database.