Nokia Tanks After Cutting Outlook, Sacrificing Payout for 5G
(Bloomberg) -- Nokia Oyj shares suffered their biggest drop in decades after the Finnish company cut its outlook and suspended the dividend, saying spending to fend off competitors has delayed an earnings boost from 5G mobile networks.
The equipment maker lowered its profit expectations for this year and next and said it won't distribute dividends for the third and fourth quarters of fiscal 2018. Nokia isn't expecting a major recovery for its earnings until 2021, about a year later than previously.
The stock fell as much as 25%, wiping out 6.6 billion euros ($7.3 billion) of market value. That's the steepest decline since at least 1991, when Bloomberg started collecting data. Nokia's share slide could prompt activists to jump in and put Chief Executive Officer Rajeev Suri under pressure, said Mirabaud Securities analyst Neil Campling.
"He has been in the position now for over five years and is still struggling to put in place a sustainable, comprehensive set of results and targets," Campling said.
The change in tone from Suri is remarkable for what it says about how Nokia is positioned relative to competitors, as phone carriers start rolling out 5G. Nokia no longer expects to win a bigger piece of the market by outperforming rivals this year and over the long term -- the new outlook has the company performing in line through 2020.
Nokia's stumbles suggest it's been unable to execute as well on 5G as its Swedish rival Ericsson AB, which has long been a stronger player in the wireless networking space, said Matthew Bloxham, a telecom analyst at Bloomberg Intelligence. Ericsson may also be benefiting from a cost-efficient offering of a 4G radio system that's upgradable to 5G and Nokia is trying to reduce its costs to keep pace. Nokia's new outlook also dragged down shares of Ericsson by as much as 4.1%.
"Some of the risks that we flagged previously related to the initial phase of 5G are now materializing," Suri said in a statement, pointing to price competition and the steep cost of product development. Nokia will now spend more on developing 5G gear and making it less expensive, he said. "We expect that we will be able to progressively mitigate these issues over the course of next year."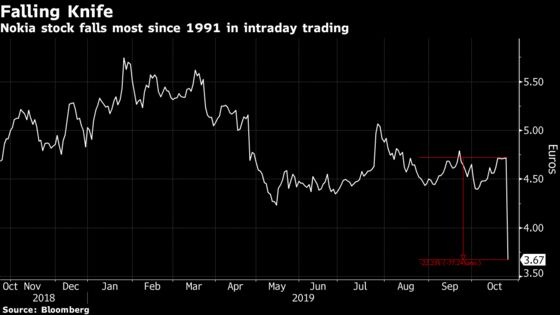 Ericsson has been willing to take less profitable cellular-network contracts to wrest a greater slice of the market away from its rivals. Nokia is also feeling the heat from China's Huawei Technologies Co., which is pushing hard to dominate in 5G despite concerns from some governments about the security of its equipment and the company's ties to the Chinese government. While some carriers are reviewing how much business they do with Huawei, that's added pressure on Nokia as it vies with Ericsson to capture any upside.
Nokia's $18 billion acquisition of French rival Alcatel-Lucent in 2016, which helped to broaden its offering, may also have slowed down development of new products as it contended with a complicated integration process.
"Over the last three years, we had to deal with an overlap of our portfolio between Alcatel-Lucent and Nokia," Suri said in a phone interview. "Of course that meant that we had more work to do than others, because we had to migrate all of the former Alcatel Lucent radio products to the Nokia products."
Nokia's adjusted earnings per share for 2019 are now forecast at 0.18 euros to 0.24 euros, down from a range of 0.25 euros to 0.29 euros. Daniel Djurberg, an analyst at Handelsbanken in Stockholm, called the guidance cut for 2019 "hefty" and characterized the drop for 2020 as dramatic, in a research note. Nokia reduced its EPS expectations for next year to a range of 0.20 euros to 0.30 euros, from a previous range of 0.37 euros to 0.42 euros.
The reduced outlook wasn't altogether unexpected -- analysts had factored the potential into their cautious estimates -- but the size of the downgrade caught investors off guard. Before the third-quarter update, analysts on average forecast the company would post adjusted earnings per share of 0.23 euros in 2019. The third-quarter results beat analysts' expectations for a period the company had flagged would be weak.
Suri said price competition is particularly tough in China. While Nokia now expects to relinquish market share in China for 5G, relative to 4G, Ericsson is expecting to gain a stronger position in what it sees as the largest market for 5G infrastructure. Nokia also flagged uncertainty related to the merger of phone carriers in North America -- a reference to the planned tie-up between Sprint Corp. and T-Mobile US Inc. If the two U.S. operators are allowed to combine, that may curb demand for 5G equipment, assuming they can benefit from network overlaps.
Ericsson's networks business has seen a return to form in recent years as the company has increased spending on 5G research and development while trying to rein in other costs. With Thursday's announcement, it appears that Nokia is following in the footsteps of its arch-rival, while also hoping that its broader product offering will lure more network technology customers over the long term. Nokia has a so-called end-to-end suite of products, while Ericsson needs to bolt on equipment from other vendors to match the Finnish company's offering.
"While I'm not completely satisfied with our current performance, I am confident that our strategy remains the right one," Suri said on a call with reporters.
Nokia said it plans to resume dividend distributions when its net cash position has improved to about 2 billion euros. It expects net cash to reach about 1.5 billion euros by the end of 2019.