No Time for High-Yield Heroes as Volatility Threatens Sales
(Bloomberg) -- Wild price swings, pulled primary deals and soaring benchmark yields are just a few of the challenges that high-yield bankers are grappling with as they try and judge whether to execute the year's last batch of debt sales.
It's been a rough month for speculative-grade issuance in Europe, with two deals withdrawn and only four transactions pricing. Syndicate desks in London say they are not inclined to act heroically by launching new deals into a volatile market, but will be on the lookout for the first signs of stability.
"The high-yield outlook generally is quite bleak but it's largely psychological," said Tatjana Greil Castro, a portfolio manager at Muzinich & Co Ltd, which manages $33.2 billion of assets. "It drives emotions down when you're seeing the index sell off and it's a vicious cycle with how people react."
The unpredictable backdrop has been enough for many buyside analysts to call an early market close for the year, which could be problematic for the likes of Stada Arzneimittel AG and Dreams Ltd as they seek to raise new financing in the next window for issuance.
"Conservative positioning does occur through turbulent periods, both increasing cash levels in funds such as in preparation for redemptions or building the portfolio with more conservative bonds, such as non-cyclical BB names," said Clark Nicholls, a senior portfolio manager at AXA Investment Managers, which manages $759 billion of assets.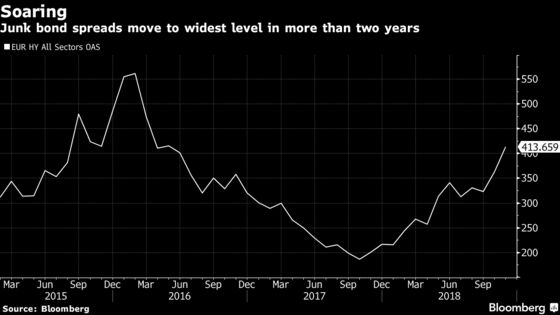 Private education operator Cognita Schools Ltd is proving that the new issue market isn't over just yet after the company was said to schedule a bond roadshow next week. Proceeds of the planned 255.3 million euros ($291 million) offering, alongside a term loan financing, will be used to support its acquisition by the family-owned investment firm Jacobs Holding AG.
While investors will no doubt be playing it cautiously, some are already positioning for a market bounce back. But even if their expectations prove true and high yield finds its footing, borrowers could be pressured into a game of catch up with only a few full weeks of the business year remaining.
Large, institutional investors "typically remain fully invested through market volatility and the cycle" whereas more hedge fund-styled mandates may seek to time the market by varying cash levels, according to AXA's Nicholls.
"We've already seen a lift but we won't see more until next week as Thanksgiving will punctuate activity in the next few days," Muzinich's Greil Castro said. "We're not sure if we'll see a material lift before year end, but we'll be staying very cautious with how we're positioned."
Read More:
Credit Stress Takes Its Toll as Companies Delay Bond Offerings 
High-Yield Deals Withdrawn or Delayed This Year Rises to 16 
Europe Junk Bond Yields Hit 27-Month High as U.K. Rattles Market