No Sleep for Traders as U.K. Sees Most Turmoil Since Brexit Vote
(Bloomberg) -- It's been a tumultuous week in U.K. markets, and for traders that's meant canceling dinner plans and waking up in the night.
The drama kicked off Tuesday as negotiators clinched a Brexit deal, before investors watched for headlines into the evening Wednesday on whether Prime Minister Theresa May's five-hour Cabinet meeting would back it. Thursday saw the Brexit minister resigning and speculation May would face a leadership challenge, sending the pound falling the most in two years in a late slump.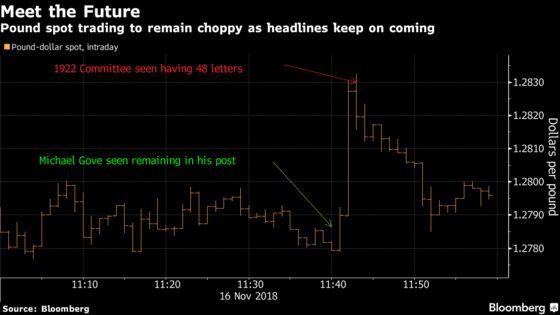 "I've been glued to headlines and the press," said Mizuho Bank Ltd.'s head of hedge fund currency sales Neil Jones. "Last night I stayed up to about 12, then woke up at about 3 a.m. to check in."
Trading platform Cboe FX saw volumes more than double Thursday, with $2.8 billion traded in pound-dollar by lunchtime, compared with a month-to-date average of $1.1 billion. A bank in London saw daily profit on pound transactions through its electronic trading platform of around eight times its average, according to a trader who asked not to be identified.
Strategists said it was their busiest week since the 2016 Brexit vote itself, as they attempted to brain storm for what could happen next. Everyone is in scenario-planning mode and fielding a huge number of questions, said Nomura International Plc's head of European rates strategy Andy Chaytor.
"I picked the wrong day to be in Portugal Thursday, my email kept blowing up between meetings, it was miserable, I didn't get home until near 10:30 p.m.," said Jeremy Stretch, Canadian Imperial Bank of Commerce's head of Group-of-10 strategy. "I am getting bombarded by political questions from all sides, it's mad."
Friday offered no relief as sterling went on an almost 100-pip round trip within ten minutes on contrasting headlines. The ongoing question of whether enough Conservative lawmakers support a no-confidence vote in the prime minister means the work and client queries won't stop. Days have stretched from 5 a.m. to midnight for Danske Bank A/S analyst Mikael Olai Milhoj and it's back to work on Sunday.
"I will be on watch over the weekend," said Stretch. "Clearly it's all going to boot off again next week."