No Rest for GE Shares as Analyst Warns of More Tax Troubles
(Bloomberg) -- It's been one thing after another at General Electric Co. and the spiral of gloom is showing no signs of abating.
Shares fell for an eighth straight day Friday, adding to the longest losing streak in a year, despite a turnaround plan announced by the much-respected new Chief Executive earlier this week. GE closed down 3 percent In New York.
Credit rating downgrades by Moody's, Fitch and S&P Global, and a patent challenge from Toyota have weighed on recent sentiment. And if that weren't enough, Gordon Haskett analyst John Inch now warns GE's near-term tax liabilities could rise significantly, possibly amounting to billions of dollars more over the coming months.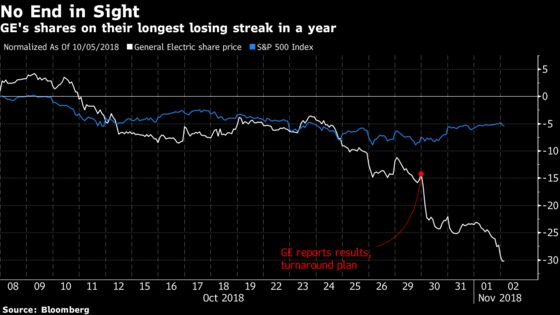 "While GE took an equity capital raise off the table, we believe ongoing cash and liability pressures, including the prospects of rising taxes, may result in a future change to this decision," Inch wrote in a note Friday. GE might have owed up to $9 billion in taxes as per the Tax Cuts and Jobs Act, surmising from GE's previous large unrepatriated foreign earnings balance, but the company took only $3.3 billion in charges, citing various "offsets," he said.
"If even some of these 'offsets' are disallowed, the company could wind up owing a large tax bill near term – coming at a difficult time for GE given its deteriorating cash flow, declining Power fundamentals and rising GE Capital funding costs as the company is forced out of the commercial paper market," Inch added.
GE, in an emailed statement to Bloomberg, said it does not "expect any change in proposed or potential regulatory guidance that would cause our tax accrual to increase by billions of dollars."