N.Y. Forbearance Brings No Business Loan, Mortgage Relief
(Bloomberg) -- An executive order over the weekend by Governor Andrew Cuomo promised relief for New York businesses struggling to make loan payments because of the coronavirus pandemic. In the end, help is going only to individuals.
State residents "who can demonstrate financial hardship" because of the virus can get 90 days of extra time on mortgages, as well as fee waivers for ATM withdrawals, overdrafts and late credit-card payments, according to emergency rules published Tuesday by the New York State Department of Financial Services.
The regulations apply to New York-regulated banks and mortgage-servicing firms and don't extend to those with federal charters, such as JPMorgan Chase & Co. and Citigroup Inc.
While the order signed by Cuomo specifically said banking laws would be modified to grant forbearance to "any person or business," there is no provision in the DFS rules for loans to companies, and they explicitly exclude commercial mortgages.
The rules also don't cover home loans originated, insured or securitized by entities such as Fannie Mae. Those companies have separately offered forbearance on loans they backstop.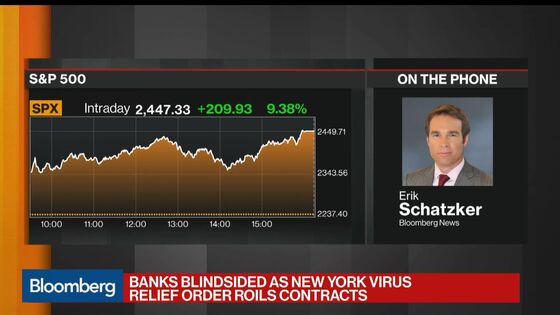 Some banks were temporarily blindsided by the order because it appeared to cover not only loans but all financial contracts. According to partners Brian Rance and Jerome Ranawake of Freshfields Bruckhaus Deringer, a law firm whose clients include large banks, the order was cited Monday in disputes between banks and trading clients over margin calls.
With a reach that sweeping, the order could have roiled markets and posed risks to the financial system. But bankers and lawyers late Tuesday said the DFS rules appear to clear up any confusion over Cuomo's intent.
The rules direct banks to tell customers within 10 days how to apply for coronavirus relief. Noncompliance will be considered "unsafe and unsound business practice," and subject to regulatory action.