No More TV and iPad Giveaways for New Zealand Homebuyers
(Bloomberg) -- Five years ago, New Zealand banks were so keen to lend they were giving away iPads and flat-screen TVs to attract new mortgage customers. Today, the gifts are gone.
Would-be home owners are instead being scrutinized more than ever before to ensure they can service a loan, mortgage brokers say. The change in attitude is tightening the screws on the property market and raising fears that New Zealand could join Australia in seeing house prices start to slide.
"Tighter credit equals softer house prices, and that's certainly what we're seeing," said John Bolton, chief executive at Squirrel Mortgages in Auckland. "People can't borrow as much as they could a couple of years ago.''
Home sales slumped in December and house-price inflation slowed to 3.2 percent, close to a seven-year low, adding to signs the country may be due a correction after an eight-year boom that saw values soar 75 percent. ASB Bank research suggests New Zealand's market is correlated with Australia's, where prices have fallen 5.2 percent from their October 2017 peak.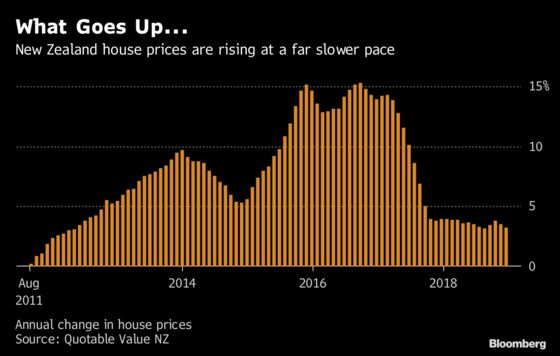 In largest city Auckland, December sales fell 24 percent from a year earlier and prices dropped, fueling concerns it may follow in the footsteps of Sydney and Melbourne, the big cities bearing the brunt of Australia's downturn.
Looming on the horizon is the Reserve Bank's proposal that banks hold bigger capital buffers which, if implemented, could make them even more reluctant to lend. The government has also commissioned a working group to look into a capital gains tax.
But economists and mortgage brokers say there are key reasons why the outlook for New Zealand's housing market is less gloomy than Australia's.
Demand continues to outstrip supply in New Zealand, which hasn't experienced the same apartment-building frenzy as its neighbor. Interest rates remain at a record low and the RBNZ this month loosened mortgage lending restrictions, potentially allowing more buyers to enter the market.
"Although the data appear bleak at first glance there are a number of factors to keep in mind,'' said Kim Mundy, an economist at ASB in Auckland. "Rather than reflecting a lack of demand, January data could confirm that buyers were simply delaying purchases.''
Still, greater scrutiny from regulators has made banks more cautious about lending.
An Australian Royal Commission last year exposed reckless and unethical behavior by banks and prompted a probe into conduct and culture in New Zealand, where the four major lenders are all Australian-owned.
Since mid-2015, a responsible lending code has also required New Zealand banks to ensure that borrowers can meet loan repayments "without suffering substantial hardship.''
As a result, banks now want to look at a customer's individual spending habits to assess their ability to service a mortgage, said Bruce Patten, a mortgage broker at Loan Market Group in Auckland.
"There are a lot of people who don't have any idea what their cost of living is and are quite taken aback when the bank turns around and says we don't want to lend to you," he said. "The world has changed. It's not just walk in the door and sign a form like it was a few years ago."
Banks Urged to Keep Lending as Australia Property Market Slumps
Squirrel's Bolton said banks have increased the interest rate they use in their models to assess whether someone can afford a loan, despite actual mortgage rates falling to as low as 3.99 percent.
"Three years ago we might have been using an interest rate of 5.5 percent, these days we're using servicing rates of around 7.5 percent,'' he said. "You can imagine the impact that has on affordability. It drops the amount you can borrow by about 10 to 15 percent."
Few analysts are predicting a crash. Annual credit growth for housing has been steady near 6 percent since late 2017, while demand for property is underpinned by net immigration of more than 60,000 a year. Still, many commentators see a subdued New Zealand market for some time to come.
"I don't see our market in any kind of free-fall, we're still short of houses,'' said Patten. "But I do see it being flat.''