No 2020 Returns for Danish Savers as Deposit Rates Head for Zero
Danes are no longer getting much of a return on their bank accounts -- and that's even before negative interest rates have had time to hit savers in full.
According to Denmark's central bank, the average interest rate on ordinary deposits -- excluding loan-related deposits -- was projected to have fallen to 0.02% in November 2019, compared with an average rate of 0.08% a year earlier.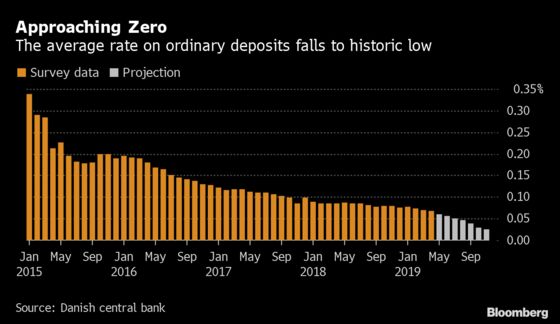 That average is likely to fall further in March, when the central bank's next survey will incorporate the impact of negative rates on deposits already announced by banks representing 40% of private customers' deposits.
Read more: Nordea Is Latest Bank in Denmark to Charge Retail Depositors
Denmark is the country with the longest stretch of negative rates. The central bank, which uses monetary policy to maintain a currency peg with the euro, first cut its benchmark rate below zero in 2012.