NMC Heath Bear Sees 42% More Downside for Battered Shares
The Jefferies International Ltd. analyst who was ahead of the pack in predicting a slump in NMC Health Plc's shares now says the stock has a lot further to fall.
James Vane-Tempest cut his price target on the hospital operator to 500 pence, or 42% below Friday's close, from 1,300 pence previously. The target is the lowest among analysts tracked by Bloomberg.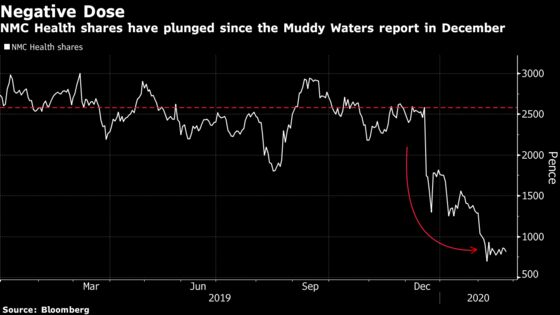 The multiple of earnings that investors are willing to pay for NMC has fallen given the concerns raised by short seller Muddy Waters Capital LLC, Vane-Tempest wrote in a report Monday. The analyst, who has rated the stock underperform since November 2018, said his latest review shows that growth at the Abu Dhabi-based company's clinics is slower than it appears, and that its cash position is tightening.
The analysis adds to the turmoil around NMC since Muddy Waters alleged in December the company manipulated its balance sheet and inflated the prices of assets it purchased. NMC has said the allegations are false, and that a committee of independent directors plans to publish findings of a review it commissioned before annual results are announced. In recent years, the company has published earnings in early to mid March.
NMC fell 3.4% to 826 pence at 11:13 a.m. in London. The stock has lost 68% since the Muddy Waters report on Dec. 17 and is the worst performer this year in the U.K.'s benchmark FTSE 100 Index. It jumped on Feb. 10 after the company said it received preliminary takeover approaches.
A spokesperson for NMC wasn't immediately available for comment on the Jefferies report.
The review of the Muddy Waters report the company commissioned from former FBI Director Louis Freeh could set NMC on a path to recovery, the Jefferies analyst wrote.
"If any of MW's accounting allegations are proved true, an analysis of precedent situations suggests that it would not be improbable to see a restructuring of the current board, paving the way for further corporate change," Vane-Tempest wrote in his report, titled "Not Much Cash?"
Before the Muddy Waters report was published, Jefferies was the sole analyst with a sell rating or equivalent on the stock. NMC now has four buys, no holds and two sell ratings, with several analysts recently suspending or restricting their coverage on the stock amid possible offers for the company.