Nike Taps Coke Executive to Run Jordan Brand
(Bloomberg) -- Nike Inc. named Coca-Cola Co. executive Craig Williams to run its Jordan business, betting that the food-industry veteran can revive the slumping brand.
Williams, appointed Tuesday, will oversee a division where sales dropped almost 8 percent to $2.86 billion during fiscal 2018. Nike Chief Financial Officer Andy Campion said last month that despite the drop, Jordan sales grew in the previous quarter in China, Europe and the Middle East. The company views it as a growth opportunity in North America.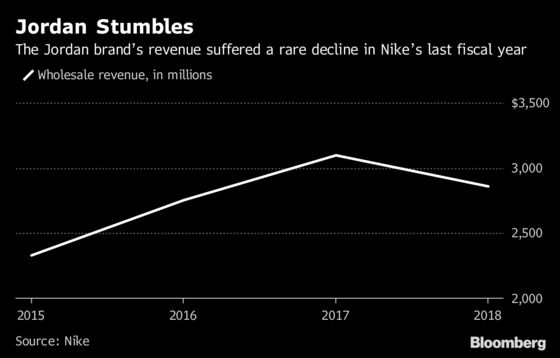 Nike is pushing to extend the brand, originally created around NBA legend Michael Jordan, beyond basketball. Some college football teams sponsored by Nike, such as the University of Michigan, wear the Jumpman logo instead of the Nike swoosh. The brand also recently partnered with French soccer team Paris Saint-Germain, its first foray into the world's most popular sport, and is expanding its offerings for women.
At Coca-Cola, Williams was most recently in charge of the company's business relationship with McDonald's Corp., a partnership that spanned 100 countries and 37,000 restaurants. He's also previously worked at Kraft Foods and CIBA Vision Corp.
Williams succeeds Larry Miller, who will become chairman of the newly created Jordan Brand Advisory Board. Miller had been in the position since 2012. The brand's sales have risen 23 percent since 2015, despite last year's decline.