Alleged Nike Payments Take Center Stage at Avenatti Trial
(Bloomberg) -- Nike Inc.'s alleged bribery of elite high school basketball players was the subject of testimony by two witnesses at the New York trial of celebrity lawyer Michael Avenatti, who is charged with trying to extort millions from the footwear giant.
A lawyer for the company testified Monday morning that, despite investigating the matter for over a year, Nike was unaware two of its executives may have made illegal payments to athletes until Avenatti raised the allegations by amateur youth coach Gary Franklin at a March 2019 meeting. On Monday afternoon, jurors heard from a Franklin friend who further described the alleged payments in the course of slamming Avenatti for betraying his client's interest.
After the jury was dismissed for the day, one of the prosecutors told the judge he was concerned that Avenatti's defense attorneys are trying to prove wrongdoing by Nike "as some kind of defense."
Federal prosecutors in Manhattan say Avenatti tried to extort as much as $25 million from Nike at the March meeting by threatening to reveal Franklin's allegations that two company executives bribed his athletes to attend Nike-sponsored college programs.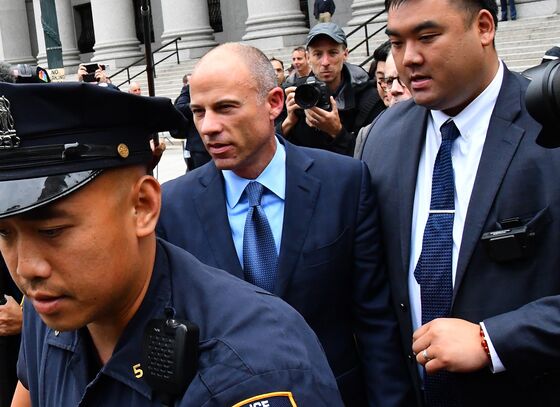 Scott Wilson, DLA Piper LLP lawyer hired by Nike, said Monday under cross-examination by Avenatti's attorney that an internal corporate probe that started in 2017 had not uncovered alleged payments by the executives, Carlton DeBose and Jamal James. Nike first heard of the payments when Avenatti produced text messages, emails and other evidence at the meeting in Manhattan, Wilson said.
Nike began its internal probe in September 2017 after it was contacted by federal prosecutors looking at corruption in college sports, Wilson testified. A related probe resulted in a former Adidas AG executive being sentenced to nine months in prison.
Nike, based in Beaverton, Oregon, has denied wrongdoing in the matter. DeBose and James, who both still work at the footwear giant, have denied involvement in making any corrupt payments. The men are also fighting subpoenas by Avenatti for their testimony at the trial.
Wilson said his law firm at the time, Boies Schiller Flexner LLP, which conducted Nike's internal probe, had interviewed DeBose and James in the year and a half before Avenatti approached Nike and told federal prosecutors the company found no evidence of corrupt payments.
"That wasn't information we had so it was not information we presented" to the government, Wilson told the jury. He said Nike gives investigators additional information as it becomes available. The government probe is ongoing.
Wilson reported Avenatti's demand to federal prosecutors and wore a wire at a subsequent meeting to gather incriminating evidence. Avenatti has denied wrongdoing and says he asked Nike to hire him to conduct a new internal probe for as much as $25 million as a legitimate tactic in trying to negotiate a settlement on Franklin's behalf.
Jeffrey Auerbach, a close friend and adviser to Franklin who suggested he hire Avenatti, testified on Monday that the lawyer violated their trust by using the allegations against Nike to seek money for himself.
"It would be detrimental, damaging and totally averse to meeting Gary's objectives," Auerbach said under questioning by a prosecutor, Assistant U.S. Attorney Robert Sobelman.
Auerbach also said Avenatti undermined Franklin's desire to smooth things over with Nike so the coach could restore a longstanding sponsorship agreement that ended over his allegations.
In the course of his testimony, Auerbach went into considerable detail about the alleged payments, describing emails, text messages, wire transfers and invoices that were provided to Avenatti for use in his talks with Nike.
Auerbach described evidence of alleged payments to parents or "handlers" of three elite players in 2016 and 2017, including Deandre Ayton, the top pick in the 2018 National Basketball Association draft who's now with the Phoenix Suns, and Bol Bol, the son of the late NBA center Manute Bol, who was a second-round pick in last year's draft and now plays for the Denver Nuggets.
Auerbach testified that, for example, DeBose directed Franklin to fly to Phoenix with cash to personally make one of the payments, and that emails from Nike and other evidence back that claim up.
The two Nike executives pressured Franklin to participate in the allegedly corrupt payments and then cut ties with the coach after he pushed back, Auerbach told the jury.
Media contacts for the two teams didn't immediately return calls seeking comment.