Nike Executive Fears Michael Avenatti Trial May Turn Into 'Circus'
(Bloomberg) -- The Nike Inc. executive who runs a sponsorship program for elite youth basketball players asked a judge to block his testimony at the criminal trial of celebrity lawyer Michael Avenatti, who's accused of trying to extort millions of dollars from the company.
Carlton DeBose, accused by Avenatti of participating in a scheme to bribe top high school prospects to attend Nike-affiliated colleges, said in a court filing late Thursday that Avenatti had subpoenaed his testimony to distract jurors "in a transparent attempt to save himself."
U.S. District Judge Paul Gardephe may rule on DeBose's request as soon as Friday. One of Nike's lawyers, Scott Wilson, the first witness in the Manhattan trial, is already being questioned by Avenatti's lawyer about the alleged payments, which Nike has been probing internally for over two years. The U.S. Attorney's Office in Manhattan is also investigating the payments.
"Mr. DeBose -- at the behest of his attorneys -- has remained silent until now, despite the many scurrilous accusations," his lawyer said in the filing. "But the truth -- and the sum total of Mr. DeBose's testimony -- would be that he and Nike did not violate any law."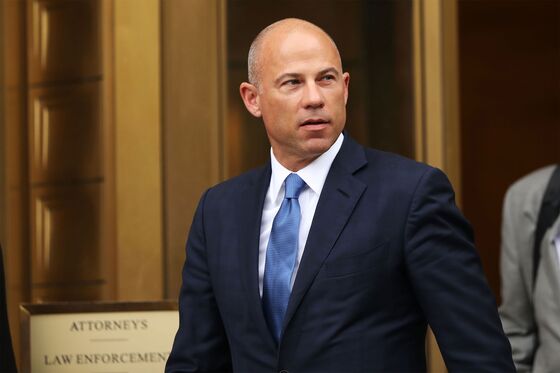 Avenatti, 48, is accused of trying to extort Nike at a meeting in March by threatening to go public with evidence of illicit payments arranged by DeBose and other Nike employees if it didn't pay him as much as $25 million to conduct an internal probe of the company. Avenatti also sought $1.5 million at the meeting for his client, a California youth basketball coach who said he had evidence of bribes by Nike and allegedly wanted to root out corruption at the company.
Avenatti subpoenaed about a half-dozen other Nike employees who he claims were involved in the corruption of college basketball. Gardephe denied Nike's request to block the subpoenas outright, saying the employees had to make their requests individually.
"This scenario threatens to turn the trial into a circus sideshow by converting it into a trial of Mr. DeBose's and Nike's conduct -- an outcome the defendant clearly desires," DeBose's lawyer said.
Nike, which has been cooperating with a federal probe into corruption of college basketball since 2017, viewed Avenatti's demand as improper and contacted the U.S. Attorney's Office in Manhattan to report the lawyer's conduct. Nike's attorney at the meeting, Wilson, wore a wire and video recorded the talks to gather evidence that's being used at the trial.
In April, 10 days after Avenatti was arrested outside the law offices of Nike's law firm in Manhattan, the embattled lawyer accused DeBose in a series of tweets of bribing high school players to play college basketball at schools affiliated with the brand. Avenatti also claimed senior company executives and many of the colleges knew about the situation but looked the other way.