Nigerian Inflation Slows as Food-Price Growth Hits Six-Month Low
(Bloomberg) -- Nigerian inflation decelerated in July after food-price growth slowed to the lowest level in six months.
Consumer prices rose 17.4% from a year earlier, compared with 17.8% in June, the Abuja-based National Bureau of Statistics said Tuesday in a report published on its website. The median of eight economists' estimates in a Bloomberg survey was 17.5%. Costs climbed 0.9% in the month.
Annual food-price growth, which has kept inflation above 10% since 2016, slowed to 21% from 21.8% in June.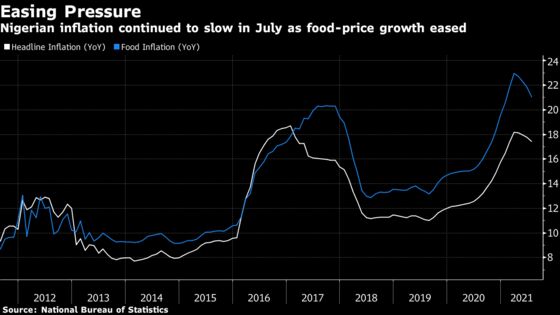 While inflation remains at almost double the 9% ceiling of the central bank's target band, slowing price growth gives policy makers leeway to leave interest rates unchanged when they meet next month. That's as they seek to foster growth in Africa's largest economy, which contracted the most in almost three decades last year because of the fallout from the coronavirus pandemic.
Economic output in Nigeria has lagged the pace of population expansion of about 2.6% every year since President Muhammadu Buhari came to power in 2015. Governor Godwin Emefiele said in July that the central bank expects the economy to grow 3.15% this year, compared with the International Monetary Fund's estimate of 2.5%.