MTN Surges as Nigeria Softens Tone on $8.1 Billion Claim
(Bloomberg) -- MTN Group Ltd.'s shares rose the most in more than six months after Nigeria softened its stance over claims that Africa's biggest wireless carrier illegally transferred $8.1 billion out of the country.
The Central Bank of Nigeria made the accusation late last month, plunging the South African company into a crisis that's wiped almost a third off its share price. MTN has since provided additional information that may lead to an "equitable resolution," a spokesman for the authority, Isaac Okorafor, said in an emailed statement late Wednesday.
Four banks -- Standard Chartered Plc, Citigroup Inc., Stanbic IBTC Plc and Diamond Bank Plc -- have also given further detail on the transactions that will be reviewed by the central bank, Okorafor said. The quartet were fined about $16 million between them for enabling the allegedly improper transactions.
The announcement suggests there may be a way for Johannesburg-based MTN to make a deal with Nigeria, just as the company did two years ago when it negotiated a $5.2 billion fine down to about $1 billion plus a commitment to list its local business in Lagos. That penalty was related to subscribers that weren't properly registered in the country.
"This is a welcome development and cements our initial view that the sanction was unsustainable," said Ronak Gopaldas, a London-based analyst at Signal Risk, which advises companies in Africa. "Considerable damage has already been done, in terms of brand damage to Nigeria Inc. and value erosion for MTN. However, a more conciliatory tone will see some of these losses being reversed. It will help calm investors."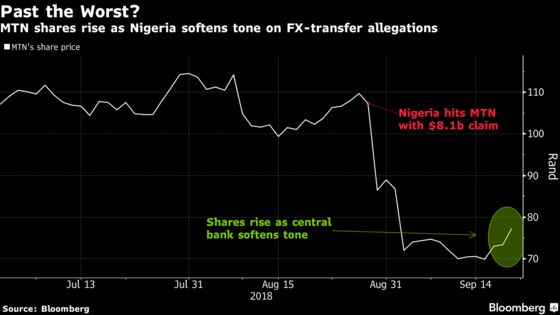 The central bank's statement didn't refer to $2 billion of back taxes MTN is also accused of owing -- a claim that comes from the attorney general's office.
"While this is a step in the right direction, continued dialogue to reach an amicable resolution is a minimum standard expected by the investment community," said Olusola Teniola, president of the Association of Telecommunications Companies of Nigeria. "We look forward to the central bank disclosing the exact reasons for their actions."
MTN Nigeria said it couldn't immediately comment.
MTN climbed as much as 8.9 percent, its biggest gain since March 8, and was trading 5.3 percent up at 77.30 rand by 1:05 p.m. in Johannesburg on Thursday. The stock is still down 28 percent since the $8.1 billion claim was made on Aug. 29, wiping out almost $5 billion of market value.
MTN's response to the double accusation was to go to court, saying allegations by both the Nigerian central bank and attorney general are unfounded, malicious and illegal. Chief Executive Officer Rob Shuter flew to the country to reassure employees of the company's commitment to the market, MTN's biggest with about 66 million customers.
The impasse comes five months before Nigerian President Muhammadu Buhari seeks re-election for a second four-year term. He's pledged to crack down on graft in Africa's most populous country, including that perpetrated by companies.
The prospects of a quick settlement "depend on how the two sides assess the possible strengths of their legal cases," said Martin Roberts, an Africa analyst in London with IHS Markit Country Risk. "Much depends on how justified the company believe Nigeria's position is, or whether they view this as an unjustified further attempt to milk a very profitable cash cow."