Dollar Ban for Wheat May Add to Nigeria Food Scarcity
Nigeria's plans to expand restrictions on dollar access for imports to now also include sugar and wheat could worsen food insecurity and fuel inflation in Africa's most-populous nation.
The country's central bank said last week it plans to cut off dollar supply to traders who import these two food items to boost local production. That will take the list of goods restricted from foreign-exchange, which include rice and dairy to fertilizer and Indian incense, to almost 50.
The ban will force manufacturers using sugar and wheat to the unofficial black market where the greenback is at least 19% more expensive compared to a closely managed official rate. While the local unit traded at 409.35 naira to the dollar as of 5:27 p.m. in the official interbank market on Wednesday, it was quoted at 486 naira to dollar in the black market.
Producers will be forced to raise prices to cover the higher costs of inputs. Food inflation has soared since the restrictions were first implemented as local production of the banned items continue to lag behind consumption and reached a more than a 15-year high in March.
Prices of items such as rice and corn have more than doubled since they were added to the list. The price of a 500 gram loaf of bread is up 11.26% from a year earlier, according to data published by Nigeria's statistics agency on Wednesday.
There is no evidence that the country has the capacity to meet local demand, Muda Yusuf, director-general of the Lagos Chamber of Commerce and Industry, said by phone.
Nigeria produces less than 1% of 4.7 million tons of wheat it is projected to consume this year, while it will import 5.1 million tons, according to the U.S. Department of Agriculture. Sugar consumption was 1.62 million tons last year, with just 75,000 tons produced locally, according to the USDA.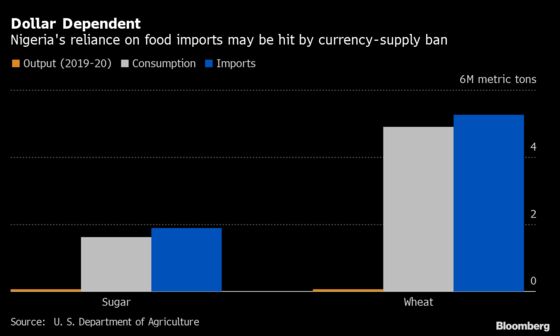 Insecurity in Nigeria's main food-producing areas and supply-chain constraints are likely to keep on fueling prices as output can't keep up with demand. The country will rely on imports to meet its national requirements for grains especially, wheat, corn and rice this year due to currency devaluations, Covid-19 restrictions, instability in food producing areas and climate change, the USDA said in a September report. Agriculture accounts for about one-third of gross domestic product and provides about two-thirds of all jobs.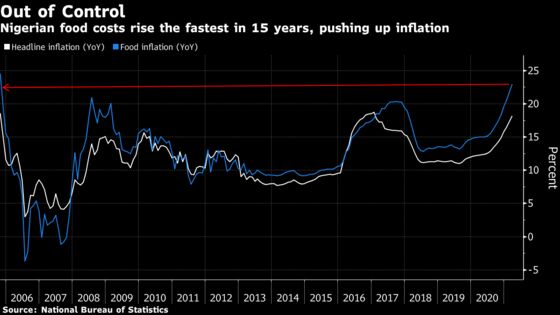 "The situation with inflation is bad enough, there is hunger in the land, domestic production in agriculture is still very weak," Yusuf said. "If it continues this way, the hunger will continue to increase."
About 80 million of Nigeria's 200 million population are classified as extremely poor, the highest number of any nation and the impact of the coronavirus pandemic will push 20 million more people in the country below the poverty line by 2022, according to the World Bank. Nigeria's central bank spokesman did not pick calls or reply to a text message when reached for comments.
"Why would anyone want to exacerbate the already difficult living condition with more restrictions on food items?" Omotola Abimbola, analyst at Chapel Hill Denham said in a Twitter post.
Efforts to boost output "while reducing imports will test Nigeria's ability to remain self-sufficient in wheat," the USDA said in a report published last week.