NFL Will Take 'Appropriate Action' in Robert Kraft Prostitution Matter
(Bloomberg) -- The National Football League said it will take "appropriate action" in dealing with New England Patriots owner Robert Kraft, who was charged last week with soliciting prostitution in Florida.
"Our personal conduct policy applies equally to everyone in the NFL," the league said in a statement Monday. "We will handle this allegation in the same way we would handle any issue under the policy."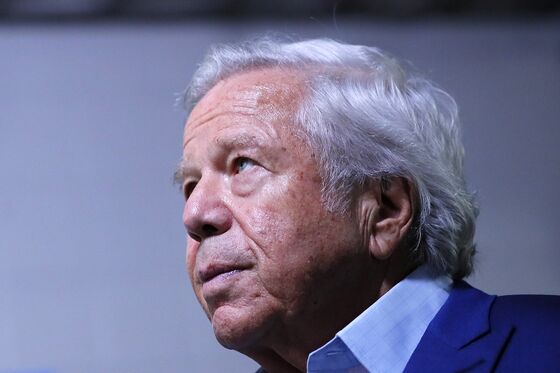 This situation puts Commissioner Roger Goodell in a difficult position, having to discipline someone that is essentially his boss. Not only is Kraft among the NFL's most powerful owners, but he sits on the league's compensation committee, which determines the commissioner's pay. The two men also feuded publicly during the NFL's "Deflategate" investigation of the Patriots.
The league's personal conduct policy is a guide for everyone associated with the NFL, including players, coaches and referees. That policy, which explicitly mentions sex offenses, states that "ownership and club or league management have traditionally been held to a higher standard and will be subject to more significant discipline when violations of the personal conduct policy occur."
Still, it's unlikely Kraft will be punished harshly, according to Marc Ganis, a top NFL consultant. That's because the allegations are unrelated to the league or team, he said last week.
Kraft, 77, was charged Friday with two misdemeanors, part of a broader prostitution crackdown that also involved an investigation into human trafficking. Kraft has denied the allegations.
"We are seeking a full understanding of the facts, while ensuring that we do not interfere with an ongoing law enforcement investigation," the NFL said. "We will take appropriate action as warranted based on the facts."