NFL Teams' Covid Cases Aren't Predictive of Wins and Losses
(Bloomberg) -- For all the tumult Covid-19 has brought the NFL this season, it hasn't clearly affected the league standings.
Consider this: The three teams with the most players placed on the Covid-19 list -- the Ravens, Raiders and Dolphins -- all have winning records, according to data compiled by DraftKings Nation. Not that squads with fewer positive tests are doing poorly. Three teams among the ones with the fewest cases -- the Seahawks, Cardinals and the Washington Football Team -- are all potentially bound for the playoffs.
Sure, the Denver Broncos were all but forced to concede defeat when they had to play a game without an actual quarterback on their roster. And the Ravens' recent outbreak, which has pushed them to the top of the Covid charts, could still change the trajectory of their season: The team has seen their latest game postponed three times and is now scheduled to play on Wednesday afternoon after being booted from prime time due to the lighting of the Rockefeller Center Christmas tree.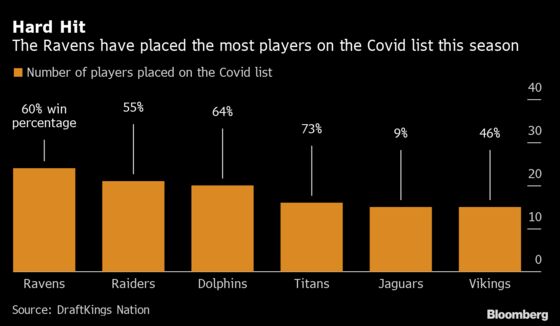 But for a season that began under the cloud of a pandemic, many pundits predicted that those teams that best managed to limit the spread of the virus would be rewarded in the standings. Covid has twisted the league schedule and caused countless disruptions, but the Jets -- who have had just four players added to the Covid list -- are still, well, the winless Jets.
Of course, a higher number of virus cases is never a good thing, but the spread among teams has hardly been predictive of success this season. The correlation between a squad's winning percentage and its number of players sidelined by Covid stands at just 0.24. It's positive, but essentially a meaningless measure.