NFL's Texans-Chiefs Game Delivers 21% Gain in Viewership
(Bloomberg) -- The NFL's divisional playoff game between the Houston Texans and Kansas City Chiefs drew 35.4 million viewers to CBS, up 21% from last year's matchup, in the latest sign that Americans are tuning into football again.
The showdown, which Kansas City won 51-31 after trailing 24-0, was the most-watched divisional playoff game for the NFL's American Football Conference in four years, CBS said on Monday. Viewership peaked from 5:45 p.m. to 6 p.m. Eastern time, the network said. Last year's matchup featured the Los Angeles Chargers and the New England Patriots.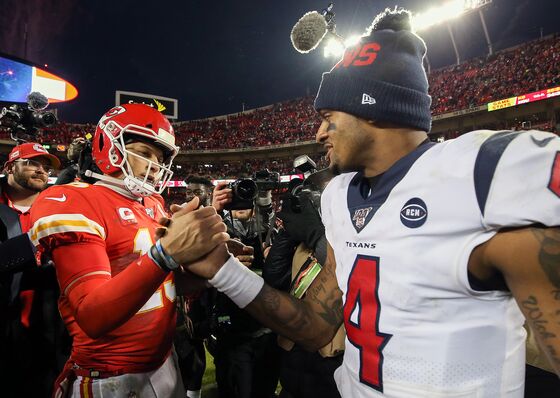 The Green Bay Packers' defeat of the Seattle Seahawks on Sunday drew an even bigger audience, with viewership peaking at more than 42 million. That would make it the most-watched event of the weekend -- and the top telecast since the last Super Bowl -- according to Fox, which broadcast the game.
The results underscore a resurgence for the NFL after a ratings slowdown in recent years. NBC's broadcast of the San Francisco 49ers-Minnesota Vikings game also attracted one of the network's biggest audiences in years. Wild-card games played the previous weekend were up 7% from a year earlier, the NFL said.
The numbers provide a fresh tailwind to the NFL, already the richest league in the U.S. They'll give it more leverage when the NFL negotiates the next round of deals for broadcasters and other platforms -- including streaming -- to air its games.