Raiders Stadium Bonds Find New Life as Las Vegas Tourists Return
(Bloomberg) -- Tourists and gamblers are coming back to Sin City, and that's lifting the bonds that financed Allegiant Stadium, the nearly $2 billion home of the National Football League's Las Vegas Raiders.
The $645 million of debt Clark County, Nevada, sold in 2018 is backed by tax revenues from hotel rooms. The bonds struggled in 2020 as the pandemic took hold and global tourism collapsed because they're backed by those levies.
So, the county tapped a debt service reserve fund to make debt payments in 2020 and in 2021, according to regulatory filings. That's typically an early sign of trouble in the municipal-bond market.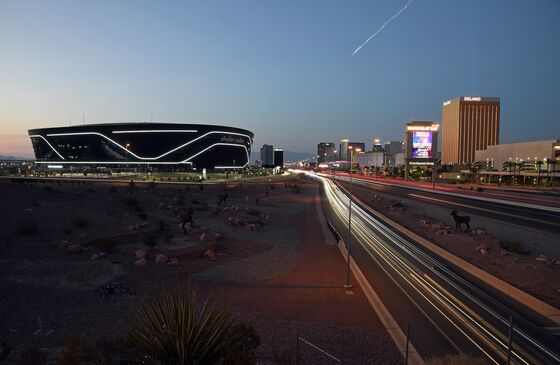 But that was then. Now, a rebound in visitors to Las Vegas is shoring up those tax revenues. Clark County won't need to use debt service reserves to make a bond payment due in December, county spokesperson Erik Pappa wrote in an email. Last month, Las Vegas had the "strongest visitation'' of the pandemic era on weekends and midweek, according to the Las Vegas Convention and Visitors Authority. Visitors were up 15.5% from September, and nearly 83% from October 2020, while still below 2019 levels.
Using the reserve fund hasn't damaged the debt's credit rating because they're further secured by the county's full-faith-and-credit-property-tax pledge, according to S&P Global Ratings, which rates the bonds AA+, the second-highest investment-grade ranking. In addition, the county has seen a "steady" recovery since reopening in mid-2020, which is supporting revenue sources like the hotel taxes and sales taxes, S&P director Li Yang said.
"Overall, we're seeing a recovery," he said. The "missing piece" is the return of business travelers and international visitors, he added. 
Bonds that are backed by tourism-related revenue, like taxes on hotel stays, have been hit hard by the pandemic, triggering downgrades and distress. The rise in cases fueled by the Delta variant delayed the sector's recovery in the late summer and early autumn. The number of visitors to Las Vegas in August and September fell as Covid-19 cases rose, according to the convention and visitors authority. 
Now, the new omicron variant could pose a new risk to the nascent recovery, said Eric Kazatsky, strategist for Bloomberg Intelligence. 
"While it is a good sign for Raiders stadium investors, I think it's too early to signal the all clear for hotel room revenues given the unknowns surrounding the omicron variant," he said.