NFL Looks to Bring Touch of Disney to Hall of Fame 
(Bloomberg) -- The development project around the Pro Football Hall of Fame is getting a dose of Disney.
Mike Crawford, a former Walt Disney Co. executive who led the the company's Shanghai theme park, was named chief executive officer of the $889 million project known as the Johnson Controls Hall of Fame Village in Canton, Ohio. The Ohio native spent the past four years with the Four Seasons Hotels, rising to global president of portfolio management.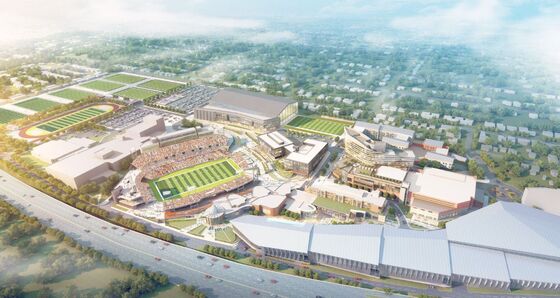 The sports-and-entertainment project, which will include football-themed amusement and water parks, is scheduled to be completed in 2020. When finished, it'll also feature a hall of fame hotel, stores, homes and office space, as well as an athletic-performance center.
The project is a partnership between the Pro Football Hall of Fame and Industrial Realty Group. M. Klein & Co. joined the project earlier this year as a financial adviser. Michael Eck, a Klein representative, has been the project's interim CEO.