Next NYC Mayor's Challenge Will Be Working With Andrew Cuomo
(Bloomberg) -- Eric Adams won New York City's Democratic mayoral primary but now the real politicking begins: wooing Governor Andrew Cuomo, a man he's criticized in the past.
The governor of New York wields outsize influence over operations of the nation's largest city. The state runs and sets fares for the subways, directs the transit cops and largely determines the taxes paid by New Yorkers. During the coronavirus outbreak, Cuomo's executive powers brought the city to a halt, exacerbating years of friction with the outgoing Mayor Bill de Blasio, who is term-limited.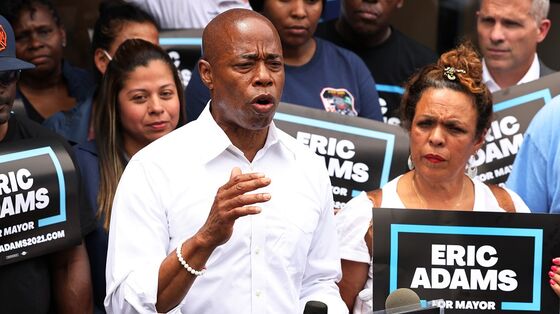 "Having a good working relationship with the governor is critical for any New York City mayor," said Richard Briffault, a Columbia Law School professor. "Albany has a huge role to play in shaping law and policy on education, criminal justice, transit, labor relations, budget -- just about every important city issue is affected by the state."
Adams is heavily favored to win the November general election in the overwhelmingly Democratic city of more than 8 million. The Brooklyn borough president, a former state lawmaker, said he and Cuomo worked together in Albany and "know how to sit down and communicate."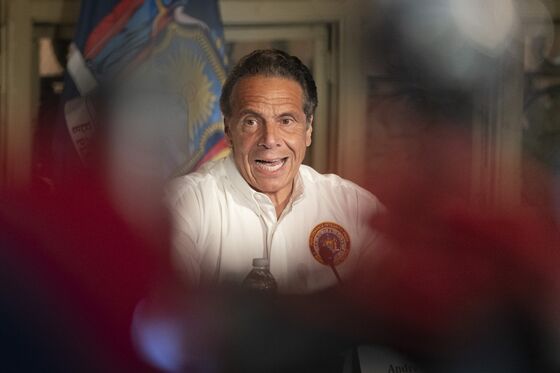 "We are both strong in what we believe," Adams said Thursday during an interview with Bloomberg Television. "I am looking forward to having him as a partner as we deal with public safety."
Adams, who centered his campaign on fighting crime and addressing quality-of-life concerns, said he was encouraged when Cuomo this week declared a disaster emergency on gun violence in the state. Although overall crime in the city remains lower than in previous decades, shootings are up 38% so far this year from a year ago, and hate crimes are up 129%, according to the NYPD.
Cuomo, 63, and Adams, 60, overlapped for two years in Albany but have run in similar New York political circles for most of their adult lives.
Read More: New York Enacts First-in-U.S. Law to Limit Gun-Liability Shield
While Adams worked on initiatives Cuomo championed, including marriage equality and a push to prevent wrongful convictions, he hasn't always supported the three-term governor.
Following sexual harassment allegations against Cuomo, Adams joined the chorus of elected officials in February who called for an independent investigation into the governor. He told the New York Times that when powerful men prey on women, "swift action must be taken against them."
In 2018, Adams appeared with failed Cuomo-challenger Cynthia Nixon in a campaign stop touring public housing in Brooklyn and told the Times in 2010 that Cuomo wasn't doing enough to support the Black community.
Adams on Thursday disputed any notion that his past with Cuomo has been checkered and didn't respond to whether the Democratic governor called to congratulate him.
When asked about his relationship with the next mayor, Cuomo said anyone beats de Blasio: "The relationship will be better by definition," the governor said at a press conference a day after the June 22 primary.
De Blasio shrugged off Cuomo's comment, saying he stopped paying attention to him long ago. On Thursday, he said the relationship is a "challenge" because of differing priorities.
Cuomo, 63, has said he and Adams had a good personal and professional relationship, calling him a "competent individual."
"He is a person who will step in and show real leadership, especially on the issues of crime and quality of life," Cuomo said.
It's unclear how long the honeymoon may last. Shortly after de Blasio's election in 2013, Cuomo said he was "so excited" to work with him. Eight years later, that excitement is gone.
"De Blasio had a rocky relationship with Cuomo, and that hurt him," Briffault said. "The next mayor has to do better."
The governor has tremendous power over the city in emergency situations, an issue on full display when New York became the U.S. epicenter of the pandemic. From the start, Cuomo was quick to undercut the power of the mayor and city health officials.
When de Blasio called for "shelter in place" in March 2020, Cuomo characterized the mayor as inciting panic. Days later, the governor ordered a statewide lockdown. When the mayor wanted to shut down the schools, the governor insisted that only he had that power. As the two sparred over the issue, Adams tweeted for Cuomo and de Blasio to "cut the crap."
"Covid management was done by the state by law and we're very pleased about how that worked," Cuomo said last month, when asked whether his tussles with de Blasio impacted the pandemic response.
Now, the onus likely shifts to how Adams will navigate Cuomo's strong personality.
Adams, a 22-year NYPD veteran, will have to work with Cuomo to address New Yorkers' persistent transit complaints over policing, cleanliness, repairs and scheduling snafus.
Over the years, Adams has criticized Cuomo's approach to improving the state's Metropolitan Transportation Authority. In 2017, the Brooklyn borough president told the New York Times he believed the mayor should have a stronger hold over the subway.
"I've wanted to have a move to put it under the mayor's control," Adams said at the time. "Because it is in the city, we should have someone who is directly responsible."
Some of Cuomo and de Blasio's biggest fights have centered on who will foot the bill for regional mass transit. The governor has asked the city to spend more, while the mayor has criticized Cuomo's diversion of MTA dollars to fill spending gaps. In January 2015, Cuomo gave the mayor less than a half-hour notice before ordering the city's subways shut down in advance of a snowstorm.
"For several years, train delays quadrupled and he tried to blame the mayor, but it got so bad and so clear that the state ran the MTA that he had to do something," said Daniel Pearlstein, director of policy and communications for the Riders Alliance, a commuter advocate group.
In June 2017, Cuomo declared a state of emergency in the city's subways as delays, track fires and breakdowns became daily occurrences. He pledged $1 billion for improvements and hired then-Toronto transit chief Andrew Byford in 2018 to run the subways and buses. Byford resigned within two years after disagreements with Cuomo.
Both Cuomo and de Blasio were also stymied by a congestion pricing plan put on hold by former President Donald Trump.
"The job to fix the public transit system is incomplete," Pearlstein said.
On Thursday, as flash-flood conditions dumped torrential rain on New York City and flooded subway stations, Adams resurfaced this call.
"This is what happens when the MTA makes bad spending decisions for decades," Adams tweeted. "We need congestion pricing $ ASAP to protect stations from street flooding, elevate entrances and add green infrastructure to absorb flash storm runoff. This cannot be New York."