Paul Chan May Challenge Carrie Lam for Hong Kong Leader: Activist Investor Webb
(Bloomberg) -- Hong Kong Financial Secretary Paul Chan's decision to investigate Next Digital Ltd., parent of the now-defunct pro-democracy Apple Daily newspaper, is a superfluous move foreshadowing his possible run for the city's top political job, according to a prominent shareholder activist.
Chan's announcement Wednesday "smacks of political grandstanding" ahead of a possible election contest between him and current Chief Executive Carrie Lam, activist investor David Webb wrote on his website. The move will probably cost taxpayers money and duplicate efforts by the Securities and Futures Commission, he wrote.
Webb's comments add to speculation that Chan, who's been the city's top financial bureaucrat since 2017, will seek to replace Lam as Hong Kong's next chief executive. Local media have also speculated that former Chief Executive Leung Chun-ying may make a comeback. Chan, Lam and Leung have yet to say publicly whether they'll run for the job ahead of the election in March.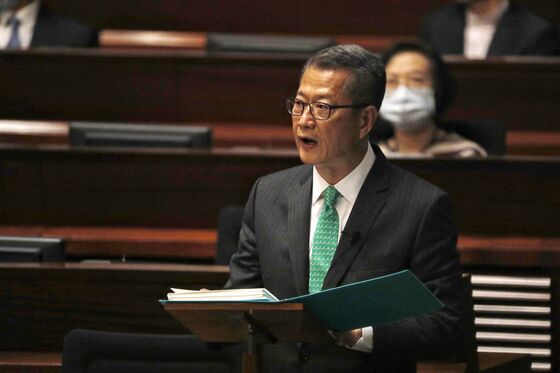 Representatives for Chan's office and Next Digital didn't immediately respond to requests for comment.
When Chan announced the appointment of a financial inspector to look into Next Digital's finances — on grounds the company was acting against the interests of shareholders and creditors, being used for unlawful activities and falling short of governance standards — he invoked a power last used 22 years ago. The city's SFC has since gained broad powers to investigate listed companies.
"While the power to appoint an FI remains on the books, in our view there is no good reason to resurrect its use against listed companies or their directors, as this is something that the SFC already deals with," according to Webb, who was once Next Digital's second-largest shareholder before selling out of the company in 2019.
The SFC has said it started formal inquiries on Next Digital and that it will coordinate closely with the inspector.
For Next Digital, owned by jailed pro-democracy tycoon Jimmy Lai, the investigation is the latest setback for what was once one of Beijing's staunchest critics. The company's flagship Apple Daily paper closed last month after authorities froze its assets and arrested its top editors, accusing them of threatening national security. Lai is serving prison time for his roles in unauthorized protests in 2019 and is separately facing national security charges on allegations that he colluded with foreign powers. Some of his assets, including his controlling shares in Next Digital, have also been frozen.