Newsom Wins California Governor Race, Will Take Role as Trump Foil
(Bloomberg) -- Gavin Newsom won the race to succeed Jerry Brown as California's next governor and position himself as the liberal foil to President Donald Trump.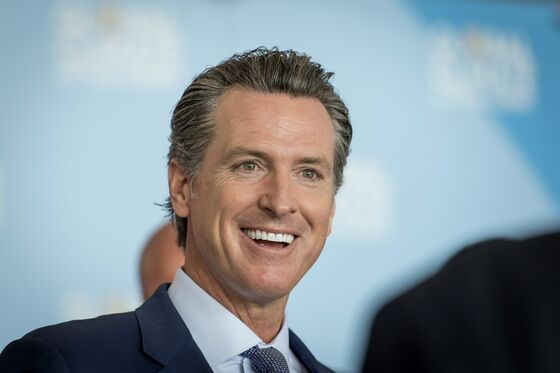 Newsom, a 51-year-old Democrat and the current lieutenant governor, beat Republican John Cox, a Trump-endorsed businessman who's never held public office. The outcome was largely expected; Newsom had consistently led in polls and California hasn't elected a Republican to statewide office since 2006.
With his victory, attention now turns to how Newsom will square off against Trump as leader of the most populous U.S. state and a liberal stronghold. The former San Francisco mayor -- who gained national attention by legalizing gay marriage in the city before it had widespread social acceptance -- spent the past several days stumping for Democratic congressional candidates, casting the election as a repudiation of the president. While Brown, 80, has sharpened his rhetoric on Trump, his comments often come in response to federal challenges to California, such as on environmental regulations.
The election suggests a more combative landscape as Newsom, whose frequent tweets on Trump included a video depicting him as a zombie leading other Republican ghouls, said he would push back on his policies.
"Nothing enlivens me more than the prospects of being your next governor to use the bully pulpit of this state to hold him to account," Newsom said after an Oct. 30 rally at San Francisco's City Hall.
As governor, Newsom will also lead the world's fifth-largest economy and the country's largest issuer of municipal debt. After Brown helped the state build up an almost $14 billion rainy-day fund, bond investors want Newsom to balance campaign promises against the threat of a return to massive deficits -- especially as some economists predict a recession within his four-year term.
Newsom's challenges as governor were eased by voters' rejection Tuesday of Proposition 6, which would have repealed a 12-cent increase to California's fuel and vehicle taxes. The tax package, enacted last year with Brown's support, is expected to raise $5 billion annually for roads, bridges and other infrastructure.
The measure would have also required voters to approve future gas tax increases, a shift Fitch Ratings and municipal-bond investors warned could limit the state's financial flexibility in a recession.
Among other prominent state ballot measures, voters rejected Proposition 10, which would have expanded the ability of cities and counties to regulate rents. Big landlords including Essex Property Trust Inc. and Equity Residential poured in millions of dollars to defeat the measure. Newsom also opposed it, preferring changes to existing state law instead.
Affordable housing is a key issue in California, where the median home price is almost $600,000. Newsom has said he would expand tax credits and bringing back redevelopment agencies to address the issue. He also has pledged to work toward single-payer health care and preschool for every child. In a debate with Cox on public radio station KQED in October, he said that his biggest concern is "addressing the income and wealth disparities in the state, in a way that doesn't begrudge other people's success but addresses these issues in a systemic way."
While Cox on the stump painted a grim picture of California in which people struggled with high taxes and making rent, Newsom said the state should serve as an example for the country with its progressive policies, such as mandating clean power and protecting immigrants.
"We have to be the state who leads the way," said Shannon McClatchey, a 51-year-old tech consultant who attended Newsom's San Francisco rally last week and voted for him by mail. "I see Gavin totally taking over where Jerry Brown is leaving off."