Newsom's Budget Taps Reserves Even as California Rolls in Cash
(Bloomberg) -- California Governor Gavin Newsom has an unprecedented budget surplus. Yet he wants to raid reserves -- a move that could leave the state at risk of crippling cuts in a future downturn.
Facing a likely recall election later this year, Newsom crafted a budget that spends the most in the state's history by siphoning $12 billion from reserves and internal funds. That's despite the $75.7 billion surplus fueled by an unexpected surge in revenue from its wealthiest residents and an infusion of $27 billion of federal stimulus.
Touting a $100 billion economic recovery plan, the Democrat aims to spread the state's massive windfall and federal aid through about 400 proposals, including $8 billion for tax rebate checks to low-and middle-income Californians. The state's legislative watchdog warned in a report Sunday that his plans are so expensive that they may trigger deficits.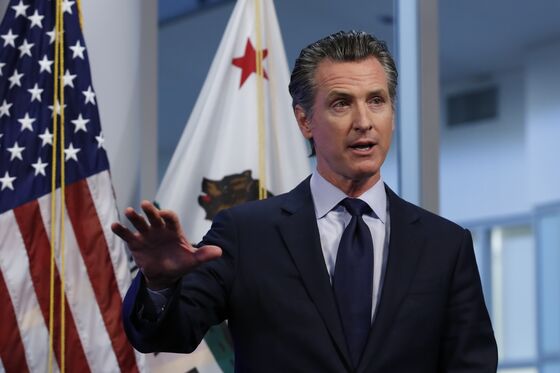 At stake may be California's resilience in the next downturn. Just as quickly as the surplus appeared -- the state is expecting the biggest yearly jump in revenue in 40 years -- so can deficits open up. That's because California's progressive tax system rakes in more revenue when the income of the highest earners rises and drops precipitously when the stock market falls. The governor's projected reserves after his spending wouldn't cover a year of revenue declines in a typical recession.
"When you have these situations where you're flush with money, you should be socking that money away for a future day, because quite frankly, the strength in reserves certainly helped us at the beginning of Covid," said Jennifer Johnston, director of research for Franklin Templeton Fixed Income's municipal bond team. "To be spending reserves at this stage doesn't make as much sense."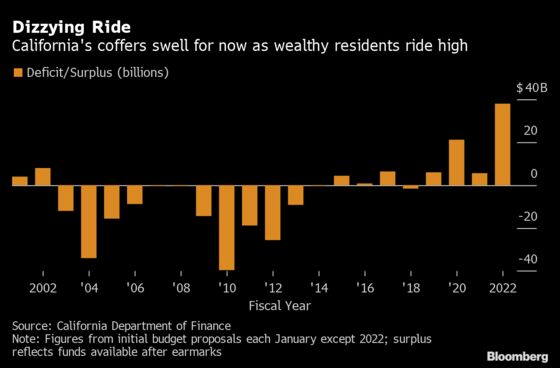 H.D. Palmer, a spokesperson for Newsom's finance department, said that the state's reserves of about $24 billion are at a historic high, and the governor's proposals "strike a proper balance" between the need to save and the need to invest in the state and its economy.
Addressing the unequal impacts from the pandemic, not the impending recall, compelled the governor's decisions, Palmer said. While highly paid residents who can work remotely rode out the pandemic unscathed and even saw their wealth soar with the booming stock market, those in lower-paying industries such as restaurants bore the brunt of job losses and evictions. California, a year after the initial shutdown ground its economy to a near halt, still has the second-highest unemployment rate in the U.S.
"They're the ones who need immediate relief the most to be able to pay the rent, keep the lights on, and keep food on their tables," Palmer said. "That's what drove that, not politics."
Newsom's spending plans include:
$15 billion for kindergarten to grade 12 schools
$12 billion to address homelessness
$11 billion for transportation
$8 billion in new direct cash payments to residents
$5.2 billion for renter assistance
$3.5 billion for affordable housing
$2 billion to cover overdue water and utility bills
$2 billion for emergency preparedness
Newsom has to provide "as much benefits to a broad base of people now, just to protect against the recall," said Howard Cure, head of municipal research at Evercore Wealth Management. "I don't think he'll be recalled, but does he really want to have a close recall vote?"
Of the $75.7 billion surplus, Newsom and legislators can choose how to spend about $38 billion since the remainder is already earmarked. The legislature, controlled by Democrats, must approve the budget by June 15 or forfeit pay.
That means voters could see money flow into popular initiatives, if approved by lawmakers, ahead of the election to remove the governor from office. The contest's likely to happen in November, according to California Target Book, which tracks state politics. A poll by the Public Policy Institute of California showed that the majorities of those surveyed approved the proposals to send stimulus checks and to help cover rent and utility bills.
Newsom has painted the recall effort as a radical right-wing movement by Republicans trying to rally their base stung by President Donald Trump's defeat. Newsom opponents, who seized on resentment over California's coronavirus shutdowns and response to the pandemic, say that voters would still want to remove the governor even as they receive checks and as restrictions lift.
In its report, the Legislative Analyst's Office said that Newsom's proposals rely on revenue growing even more than his administration forecasts. It recommends cutting some spending and restoring the $12 billion that the governor is tapping from reserves and internal borrowing.
Palmer said 90% of the new spending is one time, and the reserves act as "a hedge against any future downturn."
Still, in a scenario that the administration sketched out in the initial January budget, the state's savings accounts wouldn't have enough funds to make up the average annual loss of more than $30 billion if a recession and 45% stock market correction were to occur. In California, where the top 1% of earners pay nearly half of personal income-tax collections, capital gains realizations can swing dramatically and is expected to reach a record high of $210 billion this year.
"We continue to have an incredibly volatile revenue base," Keely Martin Bosler, Newsom's finance director, told reporters after the governor's budget presentation on May 14. "The last two recessions, you've seen capital gains plummet with the stock market, and the stock market did drop by around 50% in both of the last two recessions. So there's a lot of risk in the future forecasts."