Newell Plunges on Forecast That Revenue Will Decline This Year
(Bloomberg) -- Newell Brands Inc. shares slumped 15 percent in early trading after the consumer-goods maker warned about another year of revenue declines as continues to reorganize its business.
Net sales will be $8.2 billion to $8.4 billion this year, the company said Friday. That's down from the $8.6 billion it reported for last year. The forecast also missed the lowest of analysts' projections.
Newell, which makes a wide range of products from Crock-Pot slow cookers to Sharpie pens, is in the midst of a turnaround plan that includes selling businesses to slim down and simplify its portfolio of brands.
It agreed to sell two businesses last quarter -- yearbook and class ring maker Jostens, as well as Pure Fishing, a tackle and reel company.
It looks like more divestments may be on board for this year, with Chief Executive Officer Michael Polk saying in a statement that 2019 will be "another year of significant portfolio and organization transformation." He didn't elaborate.
While cost management and pricing will help prop up margins going forward, Polk did cite the negative impact from retailer bankruptcies, currency swings, inflation and tariffs.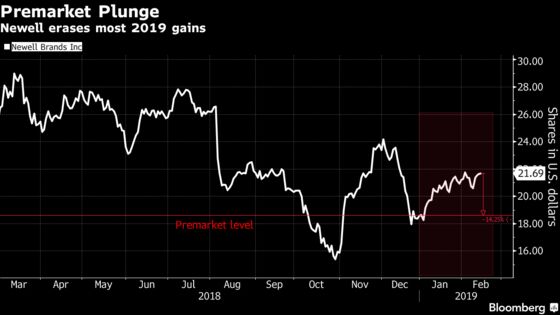 The shares tumbled as low as $18.52 in premarket trading. If the decline persists after the open, it would erase most of the gains of the stock this year.
For more on the results, click here