New Zealand Unemployment Rate Rises as Recession Hits Hiring
(Bloomberg) -- New Zealand's jobless rate rose in the third quarter as companies were forced to shed workers in the aftermath of the recession caused by the coronavirus pandemic.
The unemployment rate increased to 5.3% from 4% in the second quarter, Statistics New Zealand said Wednesday in Wellington. That was in line with economists' forecasts. Employment fell 0.8% from the previous three months.
New Zealand's recovery from a first-half economic contraction was disrupted by a three-week lockdown in largest city Auckland in August, while the closed border has decimated the tourism industry. Companies including Air New Zealand and Warehouse Group have reduced headcount, and the labor market is expected to weaken further after a government wage subsidy came to an end in September.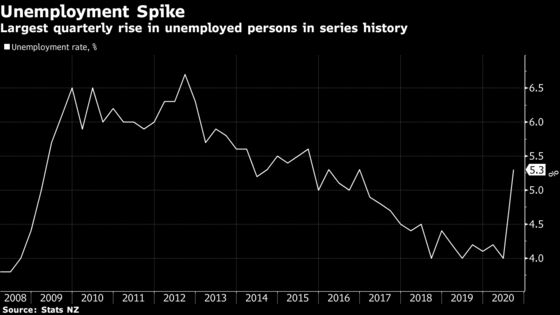 "Labor market conditions have deteriorated and are expected to continue to do so, but government support and our relative Covid success have been effective in limiting the damage so far," said Mike Jones, senior economist at ASB Bank in Auckland. "It's too soon to take the foot off the monetary stimulus gas. The path of least regret for the Reserve Bank will thus be to keep pushing monetary policy easier."
The kiwi dollar fell after the report. It bought 66.99 U.S. cents at 11:26 a.m. in Wellington from 67.13 cents immediately before the release.
The RBNZ is predicting the jobless rate could rise toward 8% in coming quarters, but that is less than the double-digit forecasts from economists immediately following a strict, nationwide lockdown in April. The economy slumped 12% in the second quarter.
The central bank, which is required to support maximum employment as well as stable inflation, will assess whether the economy needs additional stimulus at its Nov. 11 policy meeting. It is tipped to introduce a new funding program for banks to encourage lending and support job creation.
The number of people unemployed rose by 37,000 to 151,000 -- the biggest quarterly increase since records began in 1986, the statistics agency said. The jobless rate was the highest since late 2016.
Employment rose 0.2% from the year-earlier quarter, the weakest growth since mid-2013.
The participation rate increased to 70.1% after slumping to a four-year-low of 69.9% in the second quarter, when the lockdown meant people opted against looking for work.
Statistics New Zealand said that more people were able to actively seek a new job in the third quarter, and were therefore classified as unemployed rather than outside the labor force. The underutilization measure, which is a broader gauge that includes people not looking for work, increased to 13.2% from 12% in the second quarter.
Ordinary time wages for non-government workers rose 0.4% in the quarter, the statistics agency said. From a year earlier, wage growth slowed to 1.6%.