New Zealand's Stock Market Trading Halted After System Fault
(Bloomberg) -- New Zealand's stock market was halted after little more than an hour's trading Tuesday and failed to resume after a fault at the country's national stock exchange.
Live prices and indexes stopped updating at 11:15 a.m. in Wellington and the market was unable to reopen by the normal 5 p.m. close. Exchange operator NZX Ltd. said the market will resume Wednesday after the incident was resolved. It apologized and said it intends to release a report once a full investigation is carried out, according to a statement released late Tuesday.
Earlier, the exchange indicated that it had successfully completed checks on the trading system but its expectations of a restart were thwarted by an unexplained second issue. The fault comes near the end of the reporting season that has seen seven of the market's 10 biggest companies disclose full-year earnings.
"The incident with trading in the markets experienced today was due to an internal operational issue, which is being further investigated," Graham Law, chief financial officer at NZX, said in the earlier statement.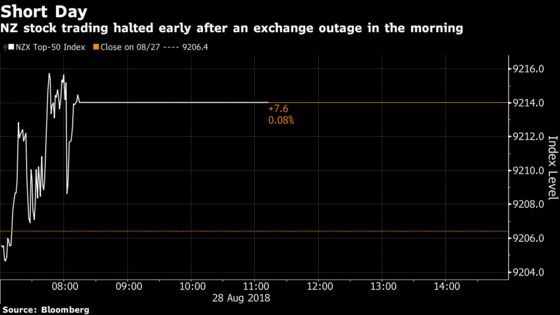 Law said the outage was not due to a technical issue in its Nasdaq Inc.-supplied X-Stream electronic trading platform.
"Capital markets and capital market efficiency are an important part of the economy, particularly for a small open economy like New Zealand," said Shane Solly, a portfolio manager at Harbour Asset Management. "Reporting season may be seeing volumes a bit lower than normal, but it's often a crucial time of the year for investors that need to reset their portfolio positions."