New Zealand's Resurgent Housing Market Could Get Rate-Cut Boost
(Bloomberg) -- New Zealand's property market is heating up again and a fresh round of interest-rate cuts in response to the coronavirus could give it another shot in the arm.
House prices rose 5.3% in February from a year earlier, their fastest pace in two and a half years, data from Quotable Value, a government-owned property research company, showed Wednesday in Wellington. Prices jumped 2.6% in the past three months alone, taking the average home value to NZ$722,475 ($452,000), QV said.
A housing shortage and record-low borrowing costs are re-stoking the property market after a two-year malaise, when a cooling economy, mortgage lending restrictions and government policies saw house-price inflation slow to 2%. The central bank sparked the revival when it lowered its official cash rate to 1% last year, and investors predict it will have to cut rates further to stem the economic impact of the virus.
"If we see a reduction in the OCR by the Reserve Bank in response to the COVID-19 outbreak, then this could actually stimulate the property market further in the short term, depending on the extent of interest rate reductions that are passed on to borrowers," said QV General Manager David Nagel.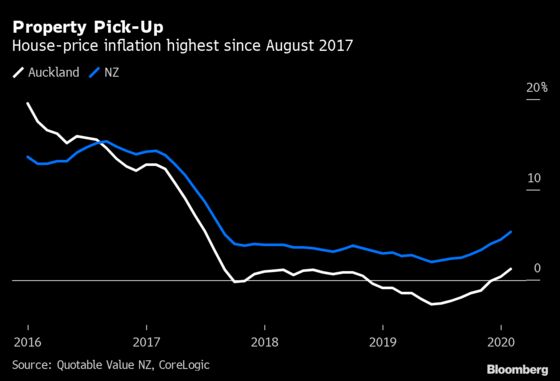 Apprehension about the impact of the virus on the economy is unlikely to be felt in the property market in the short term but could have an effect in later months, particularly in locations dependent on tourism, Nagel said.
Tourist mecca Queenstown, home to some of New Zealand's most expensive property, already had one of the lowest rates of increase in February, with prices climbing just 0.7% in the year. It still boasts an average house price of NZ$1.21 million.
After falling through 2019, prices are starting to pick up in the Auckland urban area, home to a third of New Zealand's population, with gains of 1.2% in the year and 1.8% in the past three months. Capital city Wellington was one of the strongest markets, with an annual price increase of 10.8%, the data show.
"All 16 of the major cities we monitor showing quarterly value growth," QV said. "This is the third consecutive month this has occurred, indicating strength right across the country."