New Zealand Military Retrieves Bodies From Volatile Volcano
(Bloomberg) -- New Zealand's defense force retrieved six bodies from an offshore volcano on Friday even as scientists warned there was a heightened risk of another eruption.
The daring military operation to White Island, which erupted on Monday, began at daybreak despite volcanologists estimating a 50-60% chance of another explosion over a 24-hour period. Recovery of the bodies had been delayed as authorities assessed the risks, but pressure from families grew amid fears another eruption could make retrieval impossible.
Six men and two women from the bomb disposal squad, wearing protective clothing and breathing apparatus, landed on the island this morning, Colonel Rian McKinstry told a news conference. They secured six bodies, which were transported by helicopter to a waiting naval vessel and then returned to the mainland. Police said aerial and dive searches for two further bodies commenced this afternoon.
"The operation today went to plan, but it's not over yet," Police Commissioner Mike Bush said. "Unfortunately, there remain two more people that we need to find, so this operation will continue."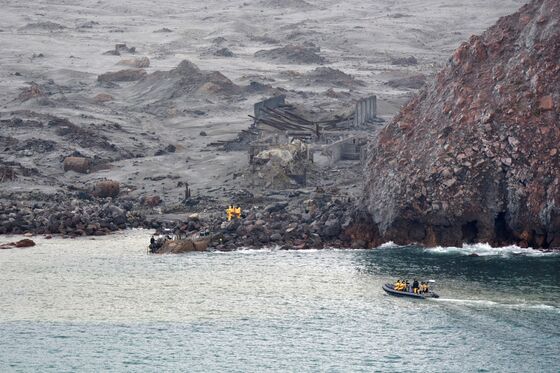 On Monday afternoon, White Island, also known by its Maori name Whakaari, erupted in a forceful explosion of scorching steam, gas and ash, causing horrific burns to most of the 47 people on it at the time. The disaster has claimed at least 16 lives. Of the 31 survivors, 28 are in hospitals in New Zealand and Australia, many in a critical condition.
Most of the people came from a visiting cruise ship and were making a day trip to the popular tourist attraction. Twenty four were from Australia, two were from the UK, four from Germany, two from China, one from Malaysia, nine from the U.S., and five from New Zealand. Some of those in hospital are so badly burned they can't communicate or be identified.
"The scale of this tragedy is devastating," Prime Minister Jacinda Ardern told parliament on Tuesday.
New Zealand sits on the Pacific Ring of Fire, a belt of volcanic and seismic activity that rings the Pacific Ocean. The latest tragedy follows a devastating earthquake in the South Island city of Christchurch in 2011 that killed 185 people. The nation is still coming to terms with a terrorist attack on two Christchurch mosques in March this year that killed 51 worshippers.