New Zealand House-Price Slowdown May Be Disrupted by Lockdown
New Zealand may experience a short-term resurgence in house-price inflation as a nationwide lockdown makes it more difficult to list new properties.
While government and central bank measures to contain one of the world's hottest housing markets appear to be having an impact, the lockdown to combat a community outbreak of Covid-19 is disrupting progress, reports on the property market show. 
New listings fell to about 150 a day in August compared to an average of 300-500, website realestate.co.nz said Wednesday in Wellington. Appraisals by real estate agents fell 52% after the lockdown was imposed on Aug. 18, CoreLogic New Zealand said.
"Through lockdowns it is harder for agents to source leads and for vendors to prepare their property for sale," CoreLogic Head of Research Nick Goodall said. "This further tightening of supply could lead to some temporary renewed upwards price pressure as pent up demand competes for limited listings."
New Zealand policy makers have rolled out a raft of measures to cool the housing market after annual price gains surged to more than 30%, posing a risk to financial stability. The government has already changed tax rules for property investors in an effort to damp demand and the Reserve Bank is restricting the amount of low-deposit lending that banks can undertake.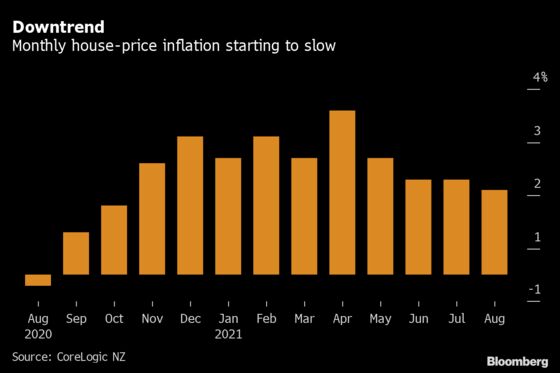 Those measures had been showing early signs of working, with the monthly pace of house-price gains slowing.
However the current lockdown, now entering its third week, prompted the RBNZ to delay an interest-rate increase that would have driven mortgage lending rates higher. 
The central bank appears eager to press ahead with monetary tightening at its next opportunity in October. Any lift in house prices is therefore expected to be short-lived, Goodall said.