New Zealand Cuts Interest Rates to Historic Low
(Bloomberg) -- New Zealand's central bank cut interest rates to a fresh record low and hinted at the chance of a further reduction if necessary, becoming the first among developed-world economies to ease policy this cycle.
Governor Adrian Orr and his newly-formed Monetary Policy Committee decided that recent unexpected weakness in inflation and hiring warranted the Reserve Bank's first rate cut since November 2016. New Zealand's dollar fell.
The move was in contrast to decisions by central banks in the U.S. and Australia, which opted to look through weakening inflation. The pioneer of inflation-targeting is taking a more activist approach: In late March, Orr flagged prospects for a reduction and economic data have been soft since, with the inflation rate falling to 1.5 percent and hiring declining.
"A lower OCR is necessary to support the outlook for employment and inflation," the RBNZ said after lowering the official cash rate a quarter of a percentage point to 1.5 percent. "A lower OCR now is most consistent with achieving our objectives and provides a more balanced outlook for interest rates."
The kiwi bought 65.85 U.S. cents at 4:43 p.m. in Wellington from 66.02 cents immediately before the statement. Two-year swap rates fell to a fresh record low.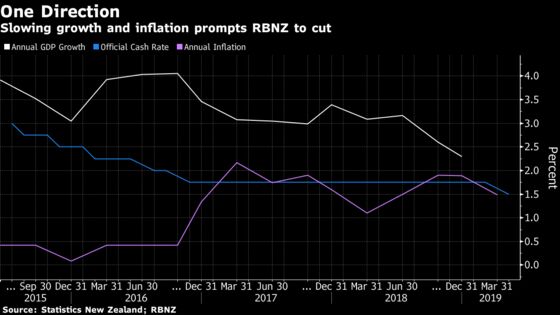 The RBNZ's projections show the average OCR dropping to 1.48 percent by the end of this year and 1.36 percent by the third quarter of 2020. They imply around a 50 percent probability of another cut, said Nick Tuffley, chief economist at ASB Bank in Auckland.
"The next move in the OCR will likely be data dependent; we have penciled in August but feel the risks are skewed to a later move,'' he said. "The RBNZ's current OCR outlook suggests a measured assessment before a further cut, rather than a sense of urgency.''
Asked at a press conference whether the RBNZ still has an easing bias, Orr said: "We think we're in a good position to be able to observe the data as it unfolds. Our forecast track is a slightly lower path than just one cut, but the uncertainties around that path are large.''
While 14 of 20 economists surveyed by Bloomberg expected today's move, market pricing of a cut dropped to less than 40 percent in the hours before the announcement. Traders are now pricing one further cut for the first quarter of next year, swaps show.
Wednesday's decision was the first made by an enlarged policy committee comprised of four internal and three external members plus a non-voting Treasury observer. The decision was reached by consensus, according to a record of the meeting published Wednesday.
New Zealand's economy has cooled, with annual growth slowing to 2.3 percent last year from 3.4 percent in 2017. Subdued business confidence and renewed fears of the impact of a trade war between the U.S. and China on global growth are clouding the near-term outlook.
What Bloomberg's Economists Say

"The RBNZ's rate cut, along with the ratcheting up of trade war tensions, should help preserve the recent slide in the New Zealand dollar. What's more, the central bank's "more balanced" outlook keeps rate cut hopes alive."

--Tamara Mast Henderson, Economist
Click here to view the piece
The RBNZ also cut its forecasts for economic growth on Wednesday, saying it now expects gross domestic product to increase 2.2 percent in the year through March 2019 compared to 2.9 percent previously. It sees growth rebounding to 3.2 percent in 2020.
"Domestic growth slowed from the second half of 2018," the RBNZ said. "Reduced population growth through lower net immigration, and continuing house price softness in some areas, has tempered the growth in household spending."
The central bank said inflation is not expected to reach 2 percent -- the midpoint of its target range -- until the second quarter of 2021, which is six months later than previously projected.
"Inflationary pressure is projected to rise only slowly," the RBNZ said, noting a more subdued outlook for employment growth.