Kiwi Bonds Surge Amid Global Debt Rally Fueled by Treasuries
(Bloomberg) -- New Zealand's biggest bond rally in a year set the tone for moves across other debt markets Wednesday following declines in U.S. Treasury yields.
Kiwi yields posted their biggest drop since the coronavirus wreaked havoc in March last year as traders curbed wagers for interest-rate hikes in the wake of government measures to cool housing prices. Bonds in Australia and emerging Asian economies also advanced while German bund futures signaled a firmer start.
Gains in Treasuries provided the cornerstone for broader moves as the Federal Reserve continued to emphasize its intention to keep monetary policy loose for longer. Renewed Covid-19 lockdowns in France and Germany cast a shadow over Europe's recovery and reinforced the risks confronting the global economy.
"One of the key reasons why bonds were so strong overnight is fears that the re-openings of economies might not be as fast as investors might have previously thought," said John Vail, chief global strategist at at Nikko Asset Management Co. in Tokyo. He also pointed to end-of-quarter portfolio re-balancing by investors buying back into bonds after the selloff seen in recent months.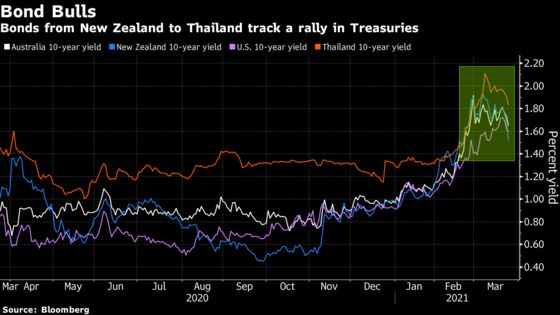 New Zealand's benchmark 10-year yields fell 17 basis points, extending a move that began Tuesday when the government unveiled a suite of measures to clamp down on runaway house prices.
Momentum increased Wednesday when a central bank debt purchase operation failed to find enough sellers of a five-year bond, which is particularly sensitive to the short-term rate outlook. Markets are now pricing around 14 basis points of rate hikes from the Reserve Bank of New Zealand by end-2022, compared with 35 basis points as of Monday.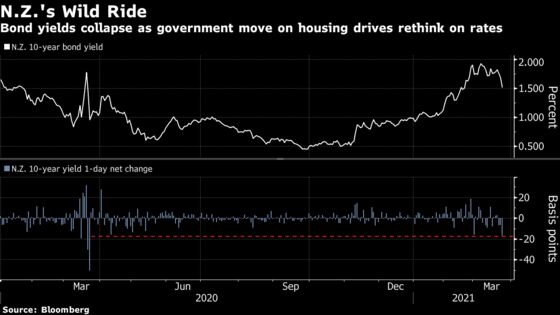 Australia's 10-year yields declined as much as nine basis points to 1.65%. Bonds in Thailand, Indonesia and Malaysia also advanced. German bund futures rose, implying 10-year yields will open around two basis points lower in London.
Benchmark 10-year Treasury yields dipped as low as 1.59% before trading down one basis point at 1.61% as at 4:20 p.m. in Tokyo.
"Market participants got pretty bullish on vaccine success and vaccine roll-out stories, and we had a major spike in yields and inflation fears," said Andrew Ticehurst, a rates strategist at Nomura Holdings Inc. in Sydney. "Some of that bullishness has faded over the past 24 hours. New lockdowns in France and Germany are a reminder that there are still challenges ahead."