New Zealand Alert to Omicron Risk to Economy, Keeps Border Plans
(Bloomberg) -- New Zealand policy makers are alert to a potential economic hit from the omicron variant of coronavirus, while sticking for now to their plans to progressively relax border restrictions from early 2022.
"The large-scale spread of omicron around countries we are seeing at the moment has that potential to ripple through to New Zealand," Finance Minister Grant Robertson said in a Bloomberg Television interview Friday in Wellington. "While it's disruptive, and deeply concerning from a health perspective, we remain confident the New Zealand economy will be resilient."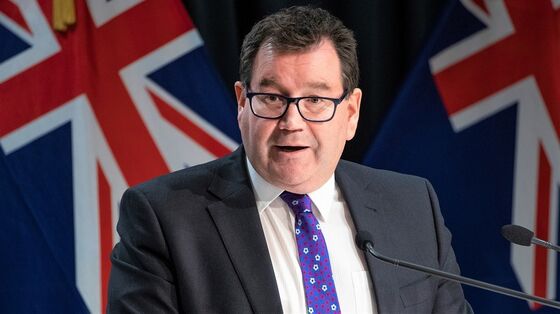 New Zealand reported its first case of omicron on Thursday, with the person being identified inside the border quarantine system and not in the community. The government intends to allow vaccinated New Zealanders living in Australia to return home from mid-January without having to face managed isolation, and will ease restrictions for foreign visitors from April 30.
"We will continue to monitor the spread of omicron and its severity as well, but for now we are sticking to the decisions we made," Robertson said. "We've got some reviews in place, one of them in early January, before we begin that process."
A report this week showed New Zealand's economy contracted last quarter. But the government also unveiled a fiscal update that foreshadowed steady economic growth in 2022 and projected a return to a budget surplus in 2024. 
"New Zealand has been quite resilient economically right throughout the last two years," said Robertson, who is also deputy prime minister. "I remain optimistic about our ability to bounce back."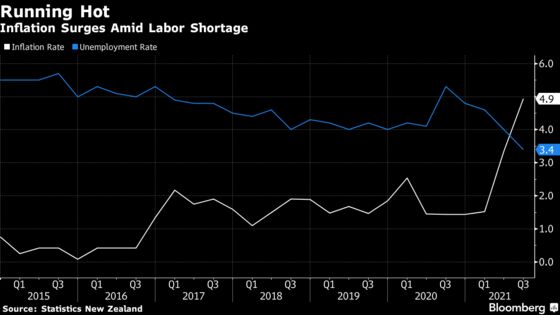 He said the economy is being impacted by supply chain disruptions that have fanned price pressures, but added that forecasts show inflation easing. The government's plans to invest heavily in health in the 2022 budget won't add to inflation pressures, Robertson said.
"We will have to manage our way through that, but the forecasts are we are near to the peak of that inflation and it will start to come off," he said. "We don't believe the spending we are proposing from the middle of next year will have that kind of inflationary effect. We will be responsible with our spending."