New Yorkers Boost Calls for Police Reform After Chauvin Verdict
(Bloomberg) -- The guilty verdict against former Minneapolis police officer Derek Chauvin brought an eruption of cheers and honking cars across New York City, where massive protests persisted for weeks last summer after George Floyd's killing.
People amassed in areas including Times Square and Brooklyn's Barclays Center for rallies and vigils. Police officers and helicopters spanned the city while community centers opened for anyone needing support, part of a plan by local officials to prepare for and prevent any potential violence in the aftermath of the verdict.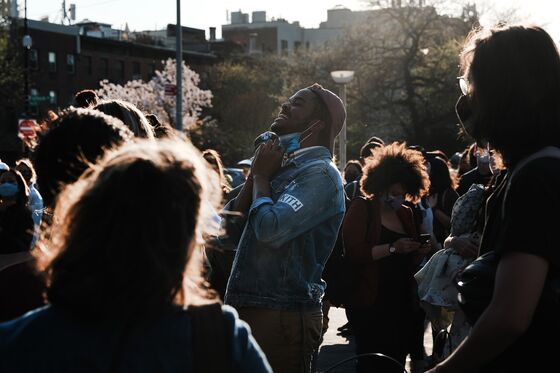 "Today, justice was served," Mayor Bill de Blasio said in a statement, urging peace and calm. "Make no mistake, today's verdict is not the end. This is the beginning, as we continue to create real reforms in policing and make a safer country for all Americans."
New York business leaders praised the verdict and called for more trust in the police and judicial system.

"The American justice system served us all well today with guilty verdicts on all counts for the murder of George Floyd," said Kathryn Wylde, chief executive officer of the Partnership for New York City, a business group that represents JPMorgan Chase & Co., Goldman Sachs Group Inc. and dozens of other companies. "Hopefully this marks the beginning of a new era in the trust that the Black community and all of us can have in law enforcement and the judicial system."
The city has been grappling with how to respond to the continued protests and calls to defund the police -- a task that will be handed off to the next mayor at the end of the year.
"I am elated," Gwen Carr, the mother of Eric Garner, who was killed in a police choke hold in Staten Island in 2014, said in an interview. "This should be a little victory for all of us, but now it has to be put in practice everywhere."
In January, state Attorney General Letitia James sued New York City and its police department for using excessive force and biased law enforcement during Black Lives Matter demonstrations that drew thousands of protesters after Floyd's killing.
The city recently published a database of officer disciplinary records and took steps to update its officer disciplinary process, more clearly laying out the penalties for certain offenses.
Mayoral hopefuls including former presidential contender Andrew Yang, Brooklyn Borough President Eric Adams and civil rights lawyer Maya Wiley said the verdict underscored the need to reform the city's approach to policing.
"We have a long way to go," Yang said in a statement. "We must all remember that today's verdict is the first step toward healing in our communities, not the accomplishment of deep and lasting reform to police culture."

Wiley used the verdict to highlight her plan to cut $1 billion from the NYPD budget and redirect those funds into community groups.
"George Floyd received some of the justice in death that he was not given in life," Wiley said in a statement. "As mayor, I will put the public back in public safety because Black and brown New Yorkers need to know that the police are going to treat them fairly if we ever need them."
Mary Rothfusz, a 42-year-old meditation teacher in the city, had planned to march in Times Square regardless of the verdict.
The decision was "a moment we are always going to remember," Rothfusz said. "We have to still be in the streets calling for action."