New York Taps Top Consumer Advocate to Oversee Wall Street Banks
(Bloomberg) -- A top official at the U.S. Consumer Financial Protection Bureau known for levying a $1 billion fine against Wells Fargo & Co. for fraud is taking over the lead banking-oversight role for the attorney general of New York.
Christopher D'Angelo, an associate director of the CFPB's Supervision, Enforcement and Fair Lending division, will become chief deputy attorney general for economic justice starting in February, Attorney General Letitia James's office said Thursday. D'Angelo, 39, will be responsible for oversight of New York's biggest banks and financial institutions, as well as investor protection, antitrust and cases stemming from the state's powerful Martin Act.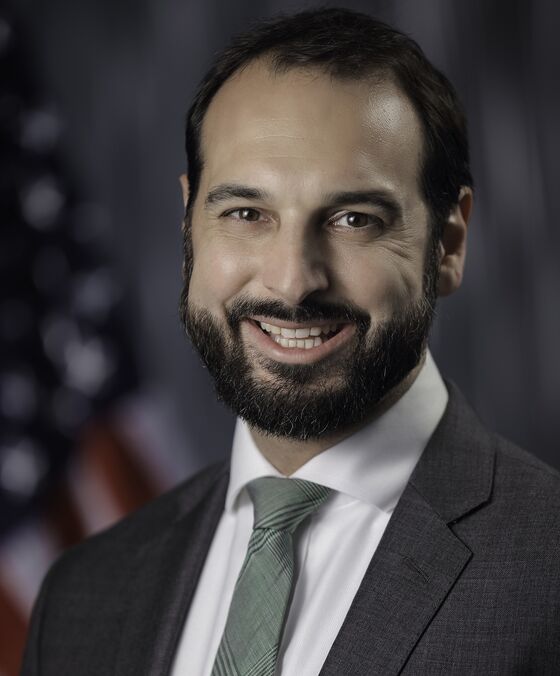 "For years, Chris has been a leading force in Washington protecting the rights of consumers and overseeing the largest financial institutions in the country," said James, a former New York City Public Advocate who in November became the first African-American and the first woman elected as the state's top cop. "He will bring unmatched expertise to the office of the attorney general, ensuring all in our state are equally protected."
The move takes D'Angelo from a federal agency that President Donald Trump has criticized and sought to rein in to a statewide office where a new leader has promised to challenge Trump's agenda and investigate his business dealings. While D'Angelo's work will focus on just New York, the state's investigations and lawsuits frequently have national impact.
After joining CFPB in 2011, D'Angelo led a division with a $150 million budget and a staff of 750, and he previously served as the agency's chief of staff responsible for day-to-day management, the New York attorney general's office said.
D'Angelo played a key role in the record fine against Wells Fargo in April 2018 for actions including improperly charging consumers for unnecessary auto insurance. The CFPB got $500 million of the total. In January 2017, the agency sued Navient Corp., once the largest U.S. servicer of student loans, for steering borrowers into forbearance rather than income-driven plans.
"Attorney General James has a record of getting results for the people who need it most, and I'm eager to continue this work both on a national and local level," D'Angelo said in a statement.
D'Angelo was seen as a close ally of the CFPB's first director, Richard Cordray, who was selected by former President Barack Obama to police mortgages, credit cards and other products at the agency established after the 2008 financial crisis. Cordray has said the agency recovered more than $12 billion for consumers under his leadership.
The CFPB has been widely criticized by Republicans, including some who ran the agency under Obama's successor. D'Angelo's departure comes less than two months after Trump's pick to run the agency, Kathy Kraninger, a little-known Office and Management Budget official, was confirmed by the Senate on a 50-to-49 vote.
D'Angelo also was known for challenging racially tinged blog posts by a senior political appointee at the CFPB, after the posts were unearthed last year. In October, the Washington Post reported that D'Angelo wrote an agency-wide note criticizing an old blog post in which Eric Blankenstein, a policy director at the CFPB who was appointed by Trump, questioned whether the n-word was racist and whether many hate crimes were fake.
D'Angelo said in the note that many employees under Blankenstein felt "threatened" by the language in the posts and criticized his failure to immediately denounce them, the newspaper said.
"Hate speech cannot be tolerated," D'Angelo wrote in the message, according to the Washington Post. "The suggestions that a racial slur is intended to do anything other than demean and oppress on the basis of race undermines constructive discourse and is inconsistent with the consumer protection and fair lending mandates of the Bureau."
Blankenstein apologized for the remarks, saying they represented poor judgement, but that "does not make me racist or a sexist," according to the Post.
D'Angelo's move to New York isn't the only high-profile departure from the CFPB during the Trump administration. In August, Seth Frotman, who oversaw the $1.5 trillion student-loan market, resigned and started his own watchdog group to do what he says the government won't do.