New York Set to Cut 30-Year Bond Sales Amid Buyer 'Resistance'
(Bloomberg) -- The demand for 30-year municipal bonds is weakening, so New York City is reducing the supply.
The nation's most-populous city, one of the biggest borrowers in the $3.8 trillion state and local government debt market, is planning to sell fewer of the longest-dated bonds because of investor "resistance" amid concerns about higher interest rates and price volatility, Marjorie Henning, the city's deputy comptroller for public finance, said at a Bond Buyer Conference in New York.
She said that marks a shift from past years, when investors were moving away from intermediate-maturity debt.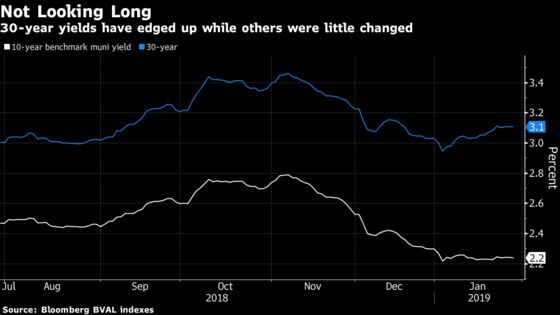 The yields on 30-year municipal bonds have edged up this month while those on 10-year securities have been little changed, according to Bloomberg's benchmark indexes. That's driven securities that mature in 2022 or longer to the worst performance in the market, according to Bloomberg Barclays indexes.
New York plans to issue just over $10 billion of bonds for projects in fiscal year 2020, which begins July 1, $11.5 billion in 2021 and $12.6 billion the year after.
"One of the things that we're exploring is ways to move down the yield curve," she said.