New York's Luxury-Rent Rebound Leaves London Homes in Doldrums
(Bloomberg) -- New York's luxury-home market is showing early signs of recovery, storming ahead of rival financial hub London and other global cities with a sudden rebound in rental growth.
Prices in Manhattan's most expensive districts rose 5.9% in the year through March, the first annual increase since April last year, data from broker Knight Frank show. Across the Atlantic, rents in central London's best areas are still in the doldrums after tumbling 14.3% in the same period.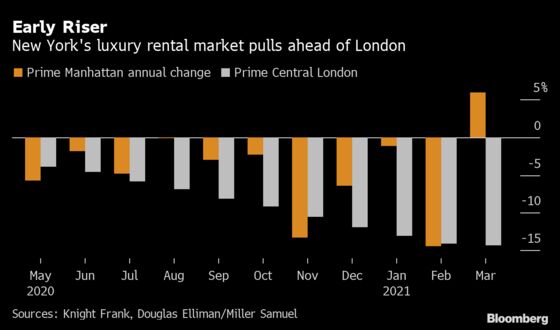 New York's top rentals may be getting a boon from the brightening outlook for the U.S. economy amid a rapid vaccination roll-out that has banks eyeing a return to the office. While London remains one of the weakest global markets for luxury rentals, there are signs that price drops there may also be bottoming out.
"There's a general greater optimism in the U.S. market," said Kate Everett-Allen, head of international residential research for Knight Frank. "What we've seen in London, and we've seen it in New York, in the last few months is that the number of leasings is starting to tick upwards and the rate of declines in rents is really starting to slow."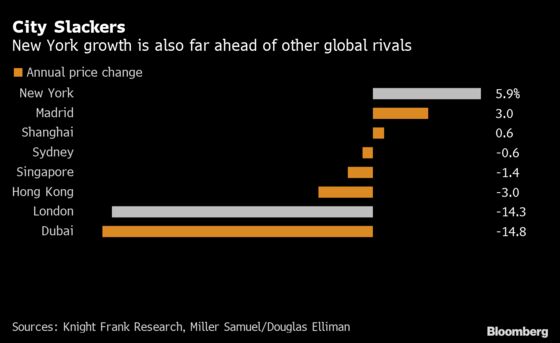 Hong Kong remains the world's most expensive city for luxury rentals despite prices easing over the past year, according to separate Knight Frank data. New York comes in at second, even after a glut of properties came to market during the pandemic as potential renters fled the city.
Dubai and Madrid are at the cheaper end of the global luxury market, with a rental payment of $10,000 securing double the amount of space in each of those cities than in New York.