For New York Homebuyers Looking for Luxury Deals, 'Now Is the Time'
(Bloomberg) -- For Manhattanites longing for luxury homes that may seem out of reach, it's a good time to make a deal.
Buyers are getting bargains as sellers reduce asking prices for high-end properties that have been sitting on the market, said Donna Olshan, president of luxury brokerage Olshan Realty Inc. Homes priced at $4 million or more that went into contract in the past two weeks had their list prices reduced 11 percent on average, her data show. Those homes lingered for an average of 442 days before finding buyers.
The buyers' eventual closing prices will probably reflect even deeper discounts -- about 15 to 20 percent, according to Olshan.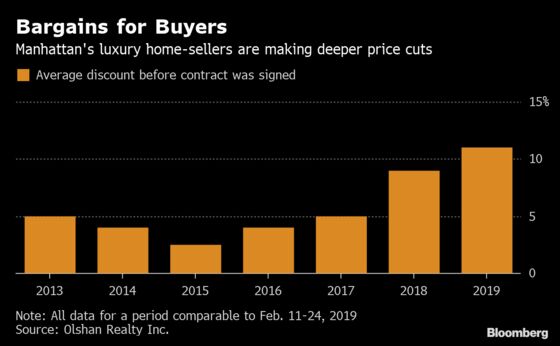 "If you want to buy something bigger and better than your budget, now is the time," she said. "Sellers are more negotiable, there's less people out there looking, and by every metric available, the consensus is it's a buyer's market. God does not ring the bell and say this is the bottom."
Luxury sales picked up in the second half of February after a slow start to the year, when would-be buyers were still digesting the impact of federal tax changes that limited deductions for homeowners. The 28 luxury contracts signed in the past week were the most since June, according to Olshan.
"There are plenty of people who want to buy, but they have to see the market adjust down to a different pricing before they're going to be comfortable," she said. "Everything is very, very price sensitive."
A nine-bedroom, seven-bathroom townhouse on the Upper East Side sold in mid-February for $29.5 million -- 33 percent less than the original asking price -- after sitting on the market for 15 months. Last week, the top contract was a 7,000-square-foot (650-square-meter) brick Georgian townhouse with a garden overlooking the East River that sold for $18.5 million. It was listed in September for $21 million.