Coffee Rises to Nine-Week High After Storm Slams Central America
(Bloomberg) -- Arabica-coffee prices jumped to a nine-week high in the aftermath of damage in Central America from Hurricane Iota, the most powerful Atlantic storm in a record-setting season.
Iota barreled ashore late Monday with ferocious wind and rain, threatening to trigger landslides and cripple a region already reeling from a deadly storm two weeks ago. It made landfall along Nicaragua's northeastern coast as a Category 4 hurricane with winds of 155 miles (249 kilometer) per hour. On Wednesday, the storm dissipated over Central America as the threat of heavy rain persisted, the National Hurricane Center said.
Honduras is the world's fourth-biggest arabica producer with Guatemala sixth and Nicaragua eighth. The region still faces serious flooding and mudslides, the hurricane center said. In Nicaragua's coffee region of Matagalpa, at least 16 people have died after a massive mudslide, according to Henry Hueck, co-owner of one the farms in the area.
Iota will spur "problems with harvesting, drying and shipping coffee beans in Honduras, Guatemala and Nicaragua as it is following Hurricane Eta by only a few weeks," the Chicago-based Hightower Report said.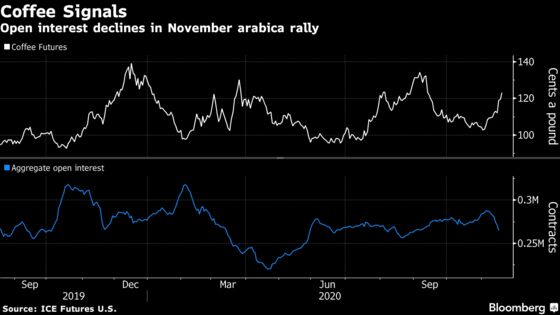 On ICE Futures U.S. in New York, arabica coffee for March delivery rose 2.9% to $1.23 a pound at 12:48 p.m. after reaching $1.243, the highest for a most-active contact since Sept. 14.
Arabica prices have dropped only twice this month, partly on weather woes in Brazil, the top producer and exporter. The price has jumped 30% from this year's low at 94.55 cents on June 15.
Goldman Sachs Group Inc. said in a report that demand may rebound in the second half of 2021.
"La Nina presents upside risks to prices, as drier South central Brazilian weather is causing flowers to wilt," the bank said. "Coffee rust is further damaging harvests in Central America."
Raw-sugar futures for March delivery rose 1.2% to 15.49 cents a pound, heading for the fourth gain in five sessions. Guatemala is a key exporter.
Cocoa futures for March delivery climbed 2.5% to settle at $2,580 a metric ton. The price reached $2,607, the highest since Sept. 30.
Drivers
France's Top Sugar Producer Sees Bigger Disease Hit to Beet Crop
Top Sugar Producer's Sweet Tooth Intensifies Global Shortage
Vietnam Harvests at Least 5% of Coffee Crop by Nov. 16: Survey