NYC and New Jersey, Virus Epicenters, Will Revive in June
(Bloomberg) -- New York City and New Jersey, the center of the Covid-19 outbreak in the U.S., are finally opening up.
The city is likely to meet state metrics by next week and have restrictions on commerce lifted June 8, Governor Andrew Cuomo said at a Friday news briefing.
New Jersey child-care centers, which free parents to rejoin the economy, can reopen June 15. Outdoor organized sports can begin a week later and youth day camps on July 6, Governor Phil Murphy announced. Houses of worship may get the go-ahead starting June 12, he said.
Murphy said he was "trying to end the week on a high note," with a goal of giving residents an "active summer" while still protecting the public's health.
The pandemic, which has already killed more than 100,000 Americans, is entering a new phase. New York, with the most cases among U.S. states, and New Jersey, just behind it, are heading toward a version of normality. Meanwhile, hot spots are erupting elsewhere, including meatpacking towns in the South and Midwest. Florida, which started reopening on May 4, reported 54,497 cases on Friday, up 2.3% from a day earlier and the third-largest daily increase since restrictions were lifted.
New York City, whose residents have endured months of self-imposed isolation, must have a stockpile of personal protective equipment and enough contact tracers, Cuomo said. Its lifeblood transit system must be prepared for the increase in traffic, and hot spots in poor neighborhoods will be a priority, he said.
"We'll get there for June 8," Cuomo said. Mayor Bill de Blasio, who joined Cuomo by video, said he is confident the city will meet the requirements.
The city had 61 new Covid-19 hospital patients on Friday, far below a city-imposed benchmark of fewer than 200, de Blasio said. New York state reached a low of daily deaths from the novel coronavirus -- 67 on May 28 -- and is close to the bottom of the curve, the governor said.
The governor and mayor, who often disagree, said they have worked together on the reopening issue. "We had to make sure we were confident that it was the right time to do it," de Blasio said.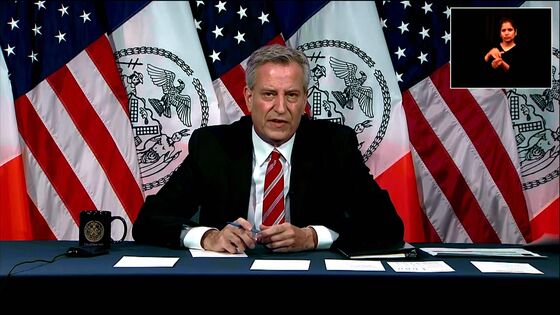 In New Jersey, horse racing can resume, Murphy said, although fans won't be allowed to attend events. Some institutions, including houses of worship, must wait at least two more weeks, he said. "We want them -- these institutions -- to be strong and safe," he said.
Murphy also announced a $100 million short-term aid program for low- and moderate-income families.
Though New Jersey hospitalizations have spiked in some recent days, Murphy said he remains confident in a general downward trend. Hospitals have 70% fewer coronavirus patients than they did during the April peak, he said.
The state reported 11,531 deaths and added 1,117 coronavirus cases over 24 hours, for a total 158,844. New Jersey hospitals discharged 231 patients but admitted 183 people for virus treatment.
The state is routinely conducting at least 20,000 tests a day, as Murphy had intended by month's end. Widespread diagnosing and contact tracing must be in place before the state fully reopens, he has said.
"Getting a test is easy," Murphy said, as 208 sites were operating statewide, including at CVS Corp. and Rite Aid Corp. stores. "Do it for yourself, do it for your family, do it for your community."
Murphy's announcement came a day after the governor said more than 1 in 9 of New Jersey's 9 million residents are newly jobless, and 911,000 of those unemployed are collecting benefits.
Murphy, in a Bloomberg Television interview aired today, said New Jersey may need to fire half of about 400,000 state and local government workers if federal aid doesn't materialize. The governor also is looking to short- and long-term borrowing, including via the U.S. Federal Reserve's Municipal Liquidity Facility, to help plug budget holes.
State Treasurer Elizabeth Muoio, who has projected a $10.1 billion revenue loss through June 2021, on Thursday said the gap could grow to $11 billion if the virus resurges later this year, as some health experts have warned.