New York City Covid-19 Cases Finally Recede After Long Plateau
(Bloomberg) -- Covid-19 cases and hospitalizations are dropping sharply across New York City's five boroughs, easing concern about a new local variant as vaccinations expand.
The seven-day average of confirmed and probable cases in the most populous U.S. city has dropped by 34% in the past week and 56% in the past month to 1,745, data show. Manhattan saw a 64% drop in the 31-day period, the most among the boroughs.
The decline follows a two-month plateau of between 3,500 and 5,000 average cases a day.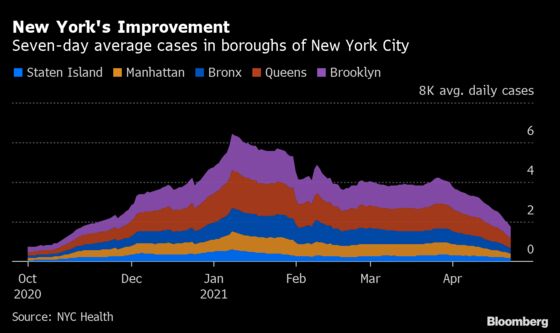 Vaccines are clearly a factor, but probably not the only one. About 40.5% of New York City residents have had at least one dose and 27.3% are fully vaccinated, slightly below the national average, according to the Bloomberg Vaccine Tracker. New York City has actually administered doses somewhat faster than the national average overall, but many probably go to commuters who aren't residents.
According to Johns Hopkins University data:
Michigan still leads the U.S. in new cases per capita, but the seven-day average has been plummeting since its April 13 peak.
Nationwide, seven-day average cases fell to 55,289, the fewest since March 23.
The seven-day average of newly reported deaths fell to 711, the lowest since Oct. 18.