Some New York Regions Are Ready to Reopen This Week, Cuomo Says
(Bloomberg) -- With the spread of coronavirus slowing in New York, Governor Andrew Cuomo said Monday the state economy is ready to begin reopening, with some regions authorized to do so as soon as this week.
Businesses including construction, curbside retail, drive-in movies and some recreational activities will reopen this week on a regional basis, with each area having met seven criteria, including low rates of virus-related hospitalizations and certain testing and tracing measures in place. There will be control rooms to monitor each area's reopening, ensuring they meet the metrics, the governor said.
"As fast as you can reopen, reopen," Cuomo said Monday at a press briefing. "Just watch the dials."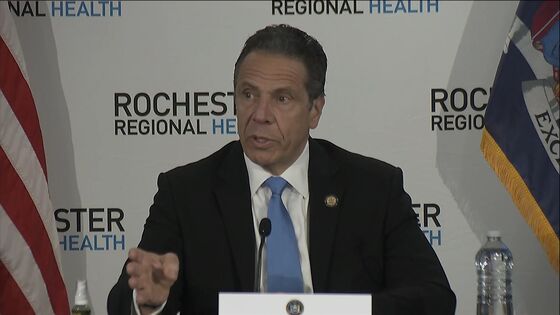 Cuomo said the Finger Lakes, Southern Tier and Mohawk Valley have met the criteria, while other regions including the North Country and central New York are close to meeting them. The state today will launch a dashboard showing where each regions stands in meeting the reopening criteria.
The governor has said it would be a "miracle" if hard-hit New York City were ready to reopen on May 15. Earlier today, Mayor Bill de Blasio said the city's lockdown is likely to continue into June.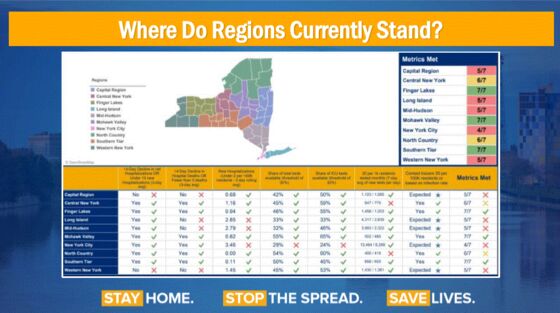 Citywide hospital admissions have declined, along with intensive-care admissions, but measures of virus incidence show the city is "clearly not ready yet" to reopen, de Blasio said.
Statewide, New York added 1,660 cases on Sunday, the smallest number since mid-March. The number of new Covid hospitalizations is 488, about the same as it was on March 19, when the outbreak started to rapidly increase. New York reported 161 additional deaths, the lowest since late March. For more than a week, that number stalled between 200 and 300.
"We're coming out of the other side," Cuomo said. "In many ways, from my point of view, we're on the other side of the mountain."
New York is the epicenter of the U.S. outbreak, with 337,055 cases and 21,643 deaths. Cuomo said it's important to learn from the mistakes that others have made. Other countries reopened too fast and didn't have have proper controls in place, he said.