Interim USA Gymnastics President Resigns After Less Than Week Over Nike Criticism
(Bloomberg) -- Former U.S. congresswoman Mary Bono, the executive tapped to help USA Gymnastics move beyond a debilitating sexual assault scandal, has resigned less than one week into the job.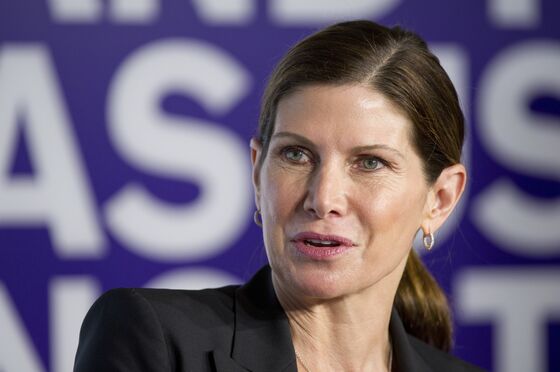 Her decision to step down as the governing body's interim CEO and president follows anger over her public criticism of Nike Inc. for its decision to use quarterback-turned-activist Colin Kaepernick in its advertising. Most prominent among her skeptics was five-time Olympic medalist Simone Biles, who openly questioned whether Bono's stance was harmful for the organization.
In a statement announcing her resignation, Bono defended a tweet she posted last month, in which she used a marker to cover the company's logo on her golf shoes. Bono said the personal attacks "would have made my leading USA Gymnastics a liability."
"With respect to Mr. Kaepernick, he nationally exercised his first amendment right to kneel," she said. "I exercised mine: to mark over my own golf shoes, the logo of a company sponsoring him for 'believing in something even if it means sacrificing everything' -- while at a tournament for families who have lost a member of the armed services (including my brother-in-law, a Navy SEAL) who literally sacrificed everything."
Bono's departure extends a tumultuous year for USA Gymnastics, which is seeking new leadership and a new direction after the trial of former team doctor Larry Nassar. Nassar was recently sentenced to 60 years in federal prison on child pornography charges and another 40 to 125 years in prison for a decades-long string of sexual abuse. His victims number more than 150 current and former gymnasts, including Biles and a handful of other Olympic champions.
Bono's critics said her stance on Nike's use of Kaepernick didn't reflect the approach needed to move the organization past a scandal in which athletes were silenced. It's also worrisome because USA Gymnastics lost almost all its sponsors during the Nassar saga, including apparel partner Under Armour. Other brands to part with the organization included Hershey Co., Kellogg Co. and Procter & Gamble Co., which declined to renew existing deals.
Sponsor are a critical component of how national governing bodies balance their budget -- corporate partners made up about 25 percent of USA Gymnastics's $23.7 million in 2015 revenue, according to the Orange County Register. Biles, who is a Nike athlete, mentioned marketing in her critique of Bono.
"Don't worry, it's not like we needed a smarter usa gymnastics president or any sponsors or anything," Biles wrote.
Bono, a former gymnast who most recently was a principal at Faegre Baker Daniels Consulting in Washington, deleted her original Nike Tweet and later said that she regretted it. She also said it didn't reflect how she planned to handle her new position.