New Thai Party Picks Ministers From Junta as Leaders Before Poll
(Bloomberg) -- Key members of Thailand's military government have been selected to head a new political party that could seek to bring back junta leader Prayuth Chan-Ocha as premier in a general election expected in 2019. 
The Palang Pracharath party said it picked Industry Minister Uttama Savanayana as its leader after a meeting Saturday in Bangkok. Science Minister Suvit Maesincee was appointed deputy head and Commerce Minister Sontirat Sontijirawong was named as secretary. Kobsak Pootrakool, a minister in Prayuth's office, becomes party spokesman.
"It's time for the country to move forward and move past all the conflicts," Uttama said at a briefing, adding that he's not sure yet whom the party would back to be prime minister.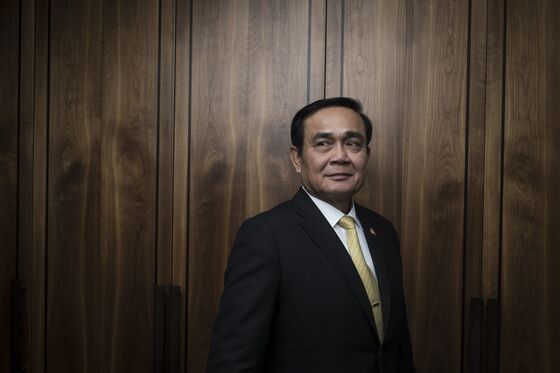 Prayuth seized power in a coup in May 2014 after a period of prolonged and sometimes bloody political unrest. A general election, long promised but repeatedly delayed, is now expected between late February and May next year under a military-backed constitution. Over the past several weeks, Prayuth's government eased a ban on political activities and announced revised electoral constituencies.
"It's clear from the beginning that this party was established to support Prayuth," said Titipol Phakdeewanich, dean of the faculty of political science at Ubon Ratchathani University.
Prayuth said in an interview in June that he's considering joining a political party to ensure that his policies continue under the next administration. Palang Pracharath's members include figures from the business sector as well as several well-known politicians who have switched from other major parties.
The opposition Pheu Thai party, which is backed by the ousted former Prime Minister Thaksin Shinawatra, is planning to elect its leader on Oct. 28. The Democrat party, another key player, could select a chief by November.
The current stretch of military rule is one of Thailand's longest since the 1970s, in a nation with frequent coups since the end of absolute monarchy in 1932.