New German Output-Data Anomaly Clouds View of Economy's Strength
(Bloomberg) -- Watchers of the German economy may face yet another data-related headache, the latest in a series of one-off quirks clouding their vision of gross domestic product.
Outsized production figures in the pharmaceutical sector have prompted an investigation in the statistics office, which is verifying whether numbers provided by companies are correct. That's after a sharp rise and fall in drugmaker production may have distorted overall economic growth data even as the industry's orders and sales moved at more stable rates.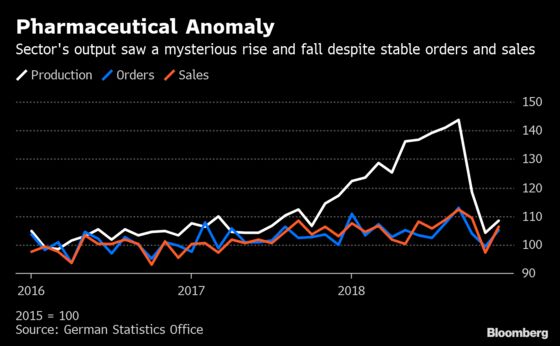 The 2018 development is influenced by data from "some" companies in pharmaceutical manufacturing that have a "high" market share, the statistics office said. "The companies concerned indicate that the reported production values are fully in line with their accounts."
Germany's BPI pharma industry association said in response to an emailed query that it's waiting for the statistics office to complete the review before providing its own explanation for the trend.
JPMorgan economist Greg Fuzesi estimates that the fourth-quarter pharma drag effectively wiped out a rebound in the auto sector. Any potential revisions to national output figures from last year won't be considered in Thursday's GDP release, even though they could lead to corrections of 2018 data in the coming months, the statistics office said.